1/350 German Z-39 Class Destroyer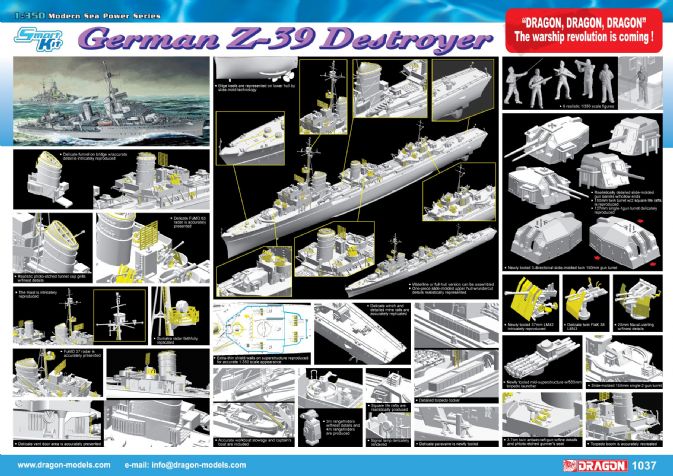 Barcode: 0 89195 81037 3
Case Pack: 20 Pieces per case
Box Size: 8.3" x 18.9" x 2.6"

Features:
- Newly tooled 3-directional slide-molded twin 150mm gun turret
- Newly tooled 37mm LM42 intricate reproduced
- Newly tooled mid supperstructure with 533mm torpedo launcher
- Delicate paravane is newly tooled
- Waterline or full-hull version can be assembled
- One-piece slide-molded upper hull w/undercut details realistically represented
- Bilge keels are represented on lower hull by slide-mold technology
- Realistically detailed slide-molded gun barrels w/hollow ends
- 150mm twin turret w/2-square life rafts is reproduced
- 127mm single-1 delicately reproduced
- Delicate twin Flak 38 LM43
- 20mm Naval-vierling w/finest details
- Slide-molded 127mm single-2
- 3.7 twin anti-aircraft gun w/fine details and photo-etched gunner seat
- Torpedo boom is accurately recreated
- Extra-thin shield walls on superstructure reproduced for accurate 1/350 scale appearance
- Delicate winch and detailed mine rails are accurately replicated
- Accurate workboat stowage and captains boat are included
- 3m rangefinders w/finest details and 4m rangefinders are produced
- Square life rafts are realistically produced
- Signal lamp delicately rendered
- Detailed torpedo locker
- Delicate funnel on bridge w/accurate detail is intricately reproduced
- Realistic photo-etched funnel cap grills w/finest details
- Delicate FuMO 63 radar is accurately presented
- The mast is intricately reproduced
- Sumatra radar faithfully replicated
- FuMO 27 radar is accurately presented
- Delicate vent door area is accurately presented
Earlier this year Dragon launched its exquisitely detailed Scharnhorst battleship in 1/350 scale. This stunning kit raised the bar to new heights, and quickly established a benchmark in plastic ship kits. Dragon is now following up this success with a second German ship in the same 1/350 scale – the Z-39 destroyer. Dragon created the best German battleship kit in the market, and now done the same with a German destroyer!
Though this kit of Z-39 is smaller than the Scharnhorst, there is no reduction at all in the level of detail. This is a brand new kit with all-new toolings, with only the launch and twin 3.7cm anti aircraft guns being reused from the preceding model. The kit is produced with the highest levels of engineering and molding excellence. The gun turrets, for example, are finely and fully detailed. The destroyer can be assembled as a full-hull or waterline-hull model. A comprehensive selection of photo-etched parts are available to upgrade this sophisticated plastic kit. To finish it off, there are even some miniature figures to add, three of which are in completely new poses. This is an amazing kit, and is a most worthy partner to the Scharnhorst!
---
Reviews:
The Z-39 was a Type 1936A (Mob) destroyer that was commissioned in August 1943 and became operational in January 1944. After working up, she was transferred to Reval on the Gulf of Finland and took part in mining operations in company with Z-25 and Z-35. Later while in route to Baltisch Port in Estonia on June 23, 1944 she came under air attack and was damaged by bombs. Escorted by Z-28 she headed for Swinemunde by way of Libau. Further repairs were planned in Copenhagen, but without sufficient fuel, Z-39 repairs were instead made in Swinemunde and were completed in late March 1945.
Z-39 was back in action escorting transports to Bay of Danzig and providing gun support for the German forces ashore. She was lightly damaged by air attack again while escorting Z-43 to Warrnemunde. In early May she joined the old German Battleship Schlesien in bombarding Soviet units and covering the bridge over Peene River. Z-39 was called upon to tow the Schlesien to safety when that ship struck a mine. They made it all the way to Swinemunde where the old battleship was left grounded in a position where the guns could cover the roads leading into the city. Z-39 resumed bombardment until German forces were forced to withdraw from the area. From the Z-39 along with Z-38, torpedo boat T-33, and tender Jagd escorted five steamers loaded with 35,000 refugees and wounded soldiers. Z-39 made another rescue trip before sailing to Kiel where she was decommissioned on May 10th.
After the war Z-39 was sailed to Plymouth in the UK and on to Boston Navy Yard where she was turned over to the US Navy as a war prize. In September her Anglo-German crew was demobilized and Z-39 was commissioned into the US Navy as DD-939. After extensive study of the German design, Z-39 was turned over to the French Navy in 1947, where she was eventually cannibalized for spare parts. Plans to upgrade her were never acted on and in 1953 she was broken up for scrap.
;

Dragon has continued their Smart Kit line with this important German Destroyer. A nice followup to their Scharnhorst kit. This kit is typical of later Type 1936A (Mob) destroyers with the forward twin turret replacing the two single 5" gun houses. No two ships of this class were exactly alike, but it would be pretty easy to modify this kit into the other ships in this group which include Z31, Z 32, Z 33, Z 34, Z 37, and Z 38. The ship is in her final German fit and can also be built to represent DD-939 in US service.
SPRUE A
The upper hull is molded waterline style with a sharp and distinct bow. The kit is packed with a plastic protector to prevent damage in shipping.
Portholes are deeply recessed into the hull with rain gutters commonly called eyebrows molded on. The shape appears to match the drawings of the ship very precisely.

SPRUE B
The lower hull includes slide molded bilge keels and even a sonar dome. Fit with the upper hull is almost exact and the modeler will have very little work to do to join the two parts for full hull display. The upper deck fits nicely into the upper hull and has some nice surface detail. Mine rails are molded onto the deck and include the cross ties.
Recessed sockets are included for the superstructure assemblies to plug into making for a smart fit that will allow you to pre-paint them for easier assembly. Also on the sprue are the rudders, props and breakwater for the bow. All are sharply molded.

SPRUE C
This sprue includes much of the upper decks and superstructure parts. Two of the deckhouses are molded using three slides so that open doors and surface detail can be included on a single part with no seams. The funnel caps include grills on the top and one piece hollow bodies tanks to more slides in the mold. The other end of the sprue also features a slide that allows for one piece prop shafts and an open door on a superstructure part.
Bridge wings have detail on both sides and include molded supports. The funnel air intakes feature some stunning detailing and when combined with the included PE shown below will make for a most realistic assembly.

SPRUE D x2
This sprue has the mast and yardarm parts and features some really thin molding. These parts are delicate so use a sharp knife to remove them, but they are nice enough that you will not have to replace them with aftermarket parts. A crows nest and even little weather vanes and antenna are included. Some of those parts may seem a little extreme as they are very tiny, but you don't have to add them if you don't want to and it is so much easier to leave them off than to cut off overscale blobs like those found in some kits.

SPRUE E
The bridge face and other parts are included on this sprue with yet another slide molded deckhouse. The detail is very fine and I was surprised at how nicely these part went together with barely a trace of a seam. interior and exterior detail is molded onto the open bridge walls.

SPRUE F x2
There are two of these weapons sprues with the best looking torpedo launchers I have ever seen in this scale. These have very fine detailing with air cylinders and piping being distinctly molded. But the real plus is the use of slides in the mold to give the tubes and open appearance. The range finders, searchlights, and other fittings are molded to the same level of detail that we have come to expect from the Smart Kits.
Check out the mine winch assembly molded in one piece yet with exceptional detail. Cable reel assemblies, and individual Marx floats are also very well done.
SPRUE G x2
Two sprues featuring the ships boats are provided. The large launches are almost separate kits in themselves with really cool detail. The separate roof allows for an open cabin and a slide allows for a one pieced hull with a molded on rudder and room for a propeller if you propeller if your really good with tweezers. An open decked boat is also included. Fine wheels are included to mount on the capstans on the bow.

SPRUE H x2
Two of these weapons sprues are included with the light anti aircraft guns included. Like those on the larger Scharnhorst kit, these are also incredibly detailed. The ends of the barrels feature hollowed out tips thanks to slides in the mold. I hope to see these weapons offered separately someday as they are the best on the market and could be used to upgrade other kits.
Weapons include are the 127mm single, twin Flak 38 LM43, 20mm Naval-vierling, and 3.7 twin anti-aircraft guns.

SPRUE J
The twin 5" gun turret is molded in one piece with a separate bottom, barrels, and Marx float holders. Thanks to the 3 slide mold the body of the turret will have only one small sprue attachment point to sand off. The bottom fits neatly under so no seam will be visible. I tested fitted the assembly and when competed it looks amazing. The gun barrels are scale size, and have hollowed out ends.

SPRUE K x2
There are two sprues of the single 5" mounts. These also feature one piece 3 slide molded shields with the only seam being on the underside where it will not be seen. Footrails for the base of the gun are included to mount to the deck This mount has some really nice rivet detailing on the surface. The only thing that I can complain about here is the racks for the Marx floats as they look a little thick.

SPRUE P
A new base for this kit has been designed based on how most modelers like to display their ships in full hull mode. The stands which resemble lamp finales are even slide molded so they can be done without seams.

PHOTOETCH
Fret MA features grills with shutter assemblies for the funnel intakes. These can be opened up or displayed closed. Footrails for the funnel will also help dress up the kit. Radar antenna give you an option in case you don't want to use the plastic ones.
Fret MB provides the shields for the light anti aircraft guns. Handwheels and seats are also included if you wish to add extra detail. You don't have to use all these parts but they are there if you do.
Fret MC includes the watertight doors relief etched in two different styles.
You will need to supply the majority of railings. But there are many photo etch companies that sell these. Dragon wanted to keep the cost down on this kit for those who don't typically add extra photo etch.

DECALS
Two decal sheets are provided. One includes the German and US flags. The US flags are in case you wish to model this ship in USN service as DD-939.
The second sheet includes hull numbers, draft markings, and other nicely rendered markings. Only the number 39 is included so you will have to supply your own numbers if you use this kit to do a sistership.

INSTRUCTIONS
Instructions are ten pages showing bill of materials, sub-assembly views, and painting guides. These have been expanded by two pages over previous destroyer kits and hopefully will give you a better view of all the parts and their locations. The assembly is also changed a bit to reflect the steps typically followed by modelers. I am glad to see Dragon listening to modelers and putting the extra time and effort into their instructions.

BUILDUP PHOTOS
Some photos of this kit built up using only the supplied parts are shown below.

CONCLUSIONS
This is Dragon's second German ship in the Smart Kit line. A nice follow-up to the Scharnhorst. Rob McCune the same 3D Designer who created the CAD for that kit, is at it again with his first destroyer. Dragon has taken his work and produced this stunning recreation of this large destroyer. The molding is first rate, and test fitting shows that this kit will go together with a minimum of fuss.
This is kit number DRA-1037 with a suggested list price of $49.95. It is a tremendous value for the modeler when you consider the detail, and hours of enjoyment you will have building it. These ships should be showing up in your hobby shops soon or order your direct from Dragon USA.
- Timothy Dike
For more details with pictures, please visit: http://www.modelwarships.com/reviews/reviews.html
ITEM NUMBER:
1037
SCALE:
1:350
BARCODE:
089195810373
RELEASE DATE:
February 2011
RETAIL PRICE:
USD 49.95 (MSRP)
JPY 4700 (Tax Excluded)
GBP 44.99 (Ref. Retail Price)
EUD 49.95 (Ref. Retail Price)
LAST UPDATE:
6/3/2011
SERIES:
DISCLAIMER: While all models portrayed in website photographs represent actual models, please note that these are prototypes and that final model products may vary slightly
Copyright 1998-2016 Dragon Models Limited. All Rights Reserved.