1/35 British Armored Car Saladin Mk.2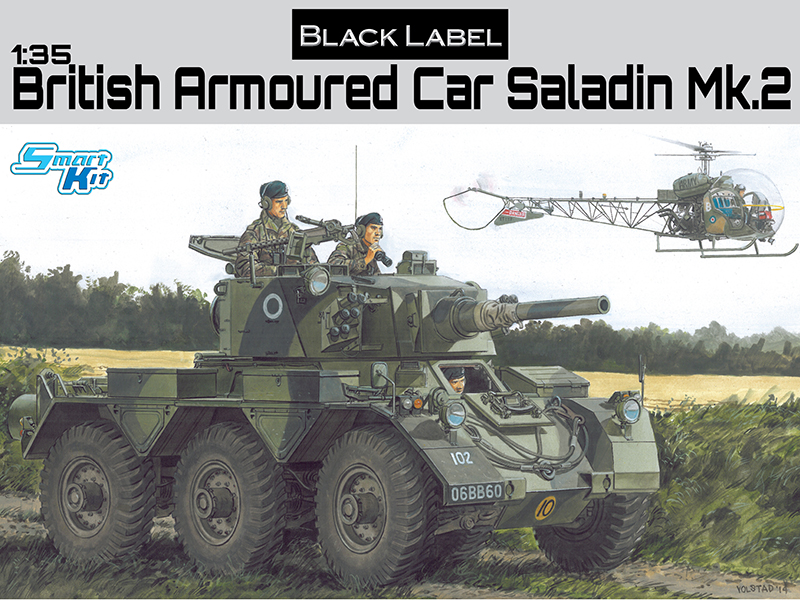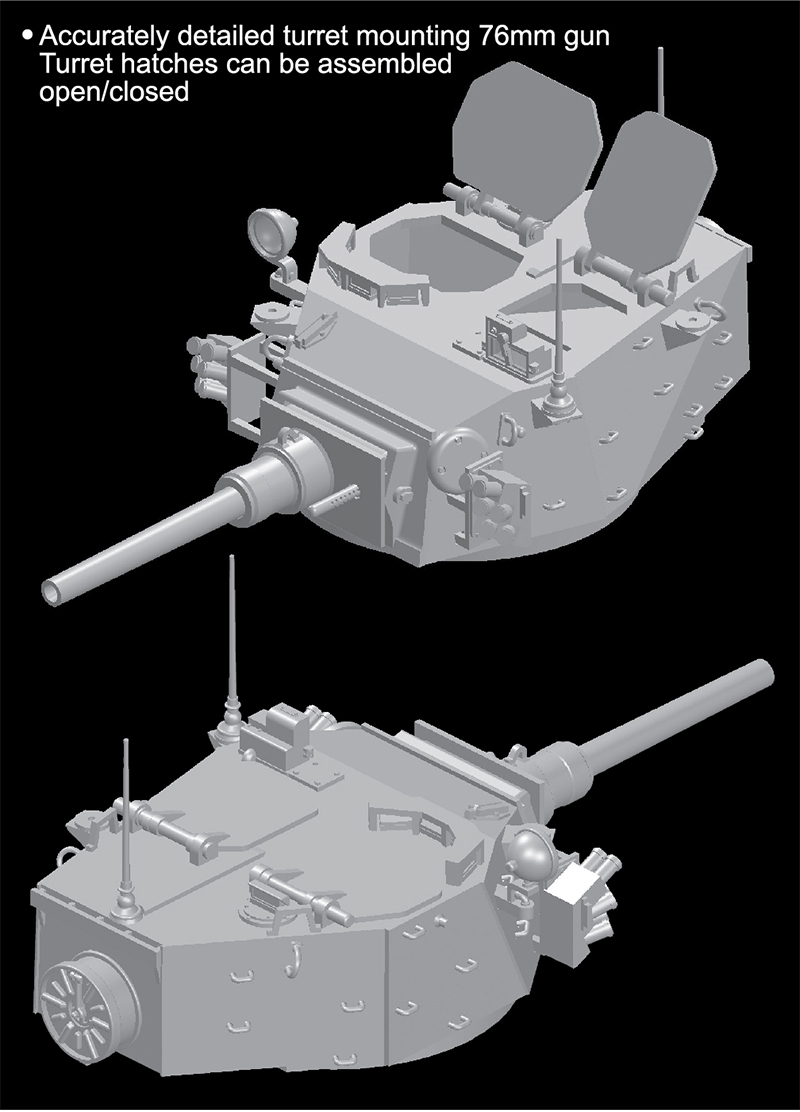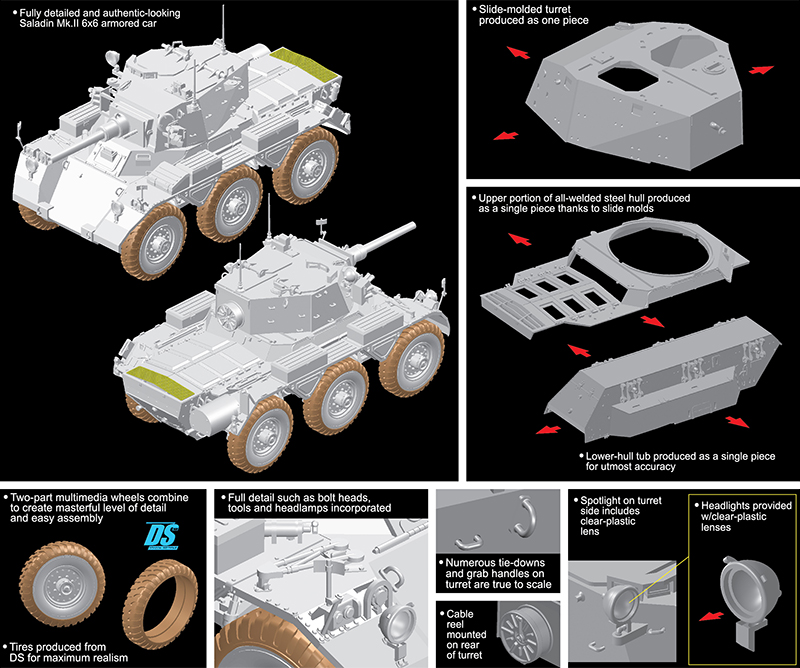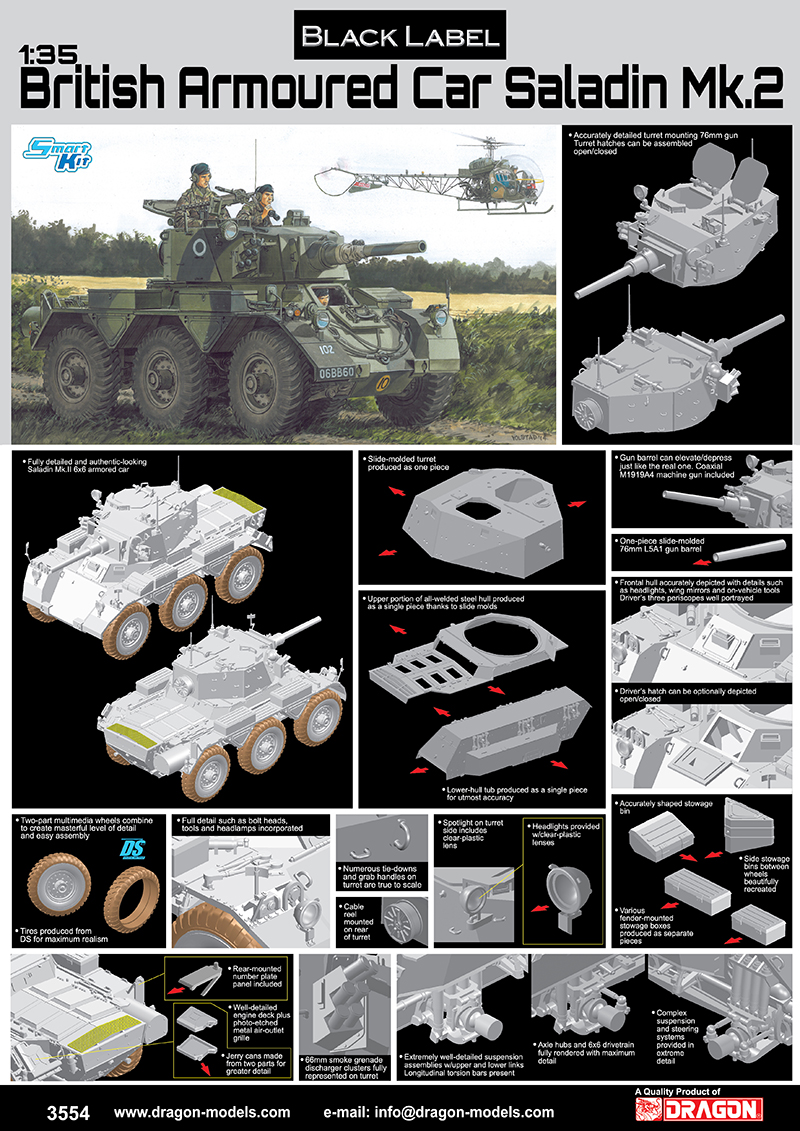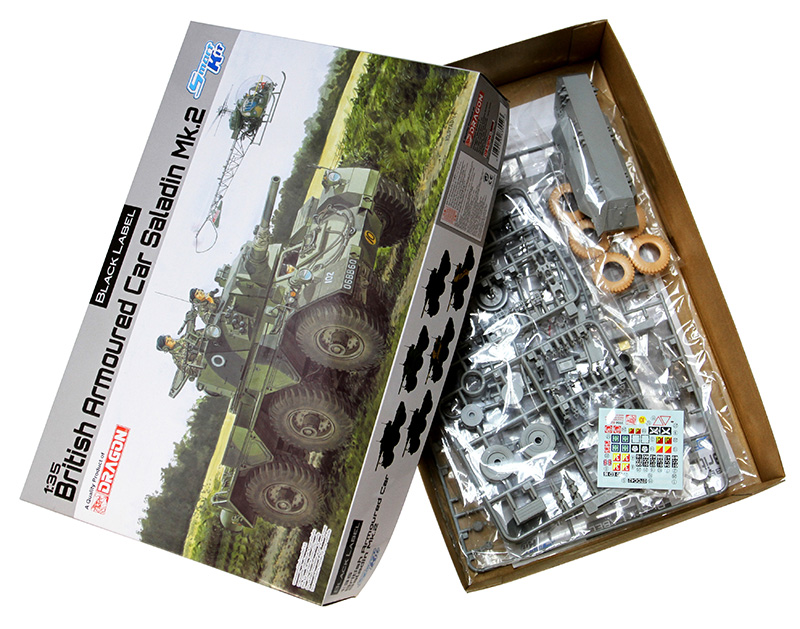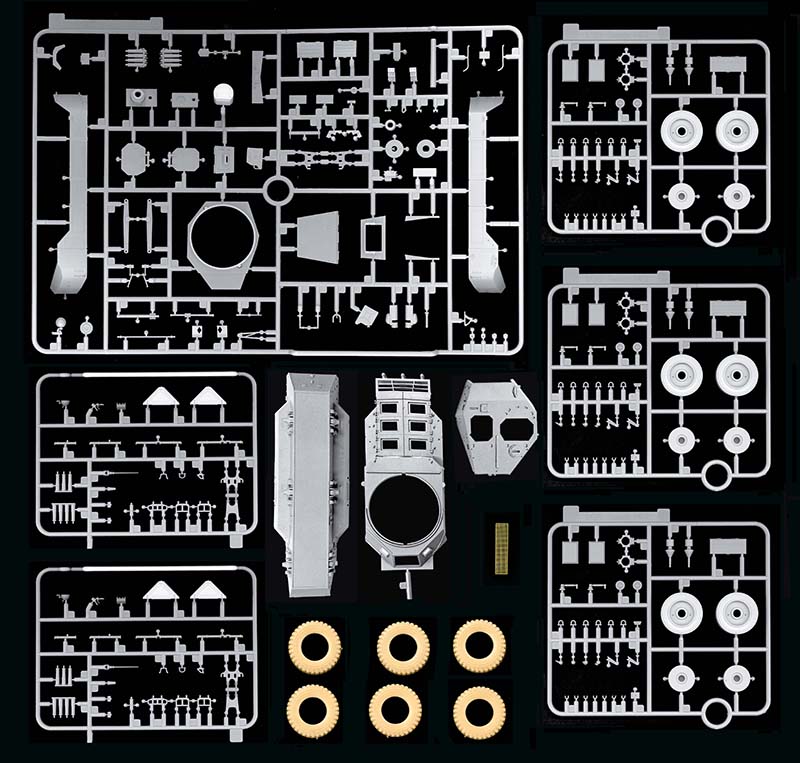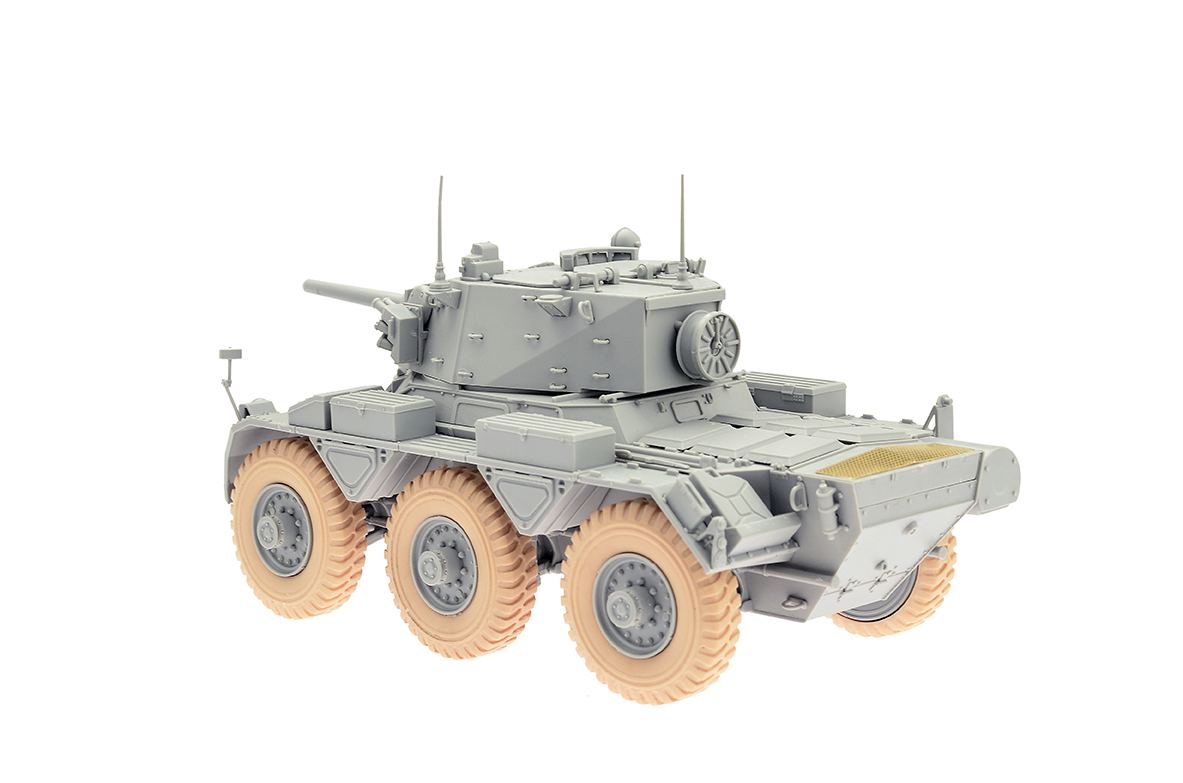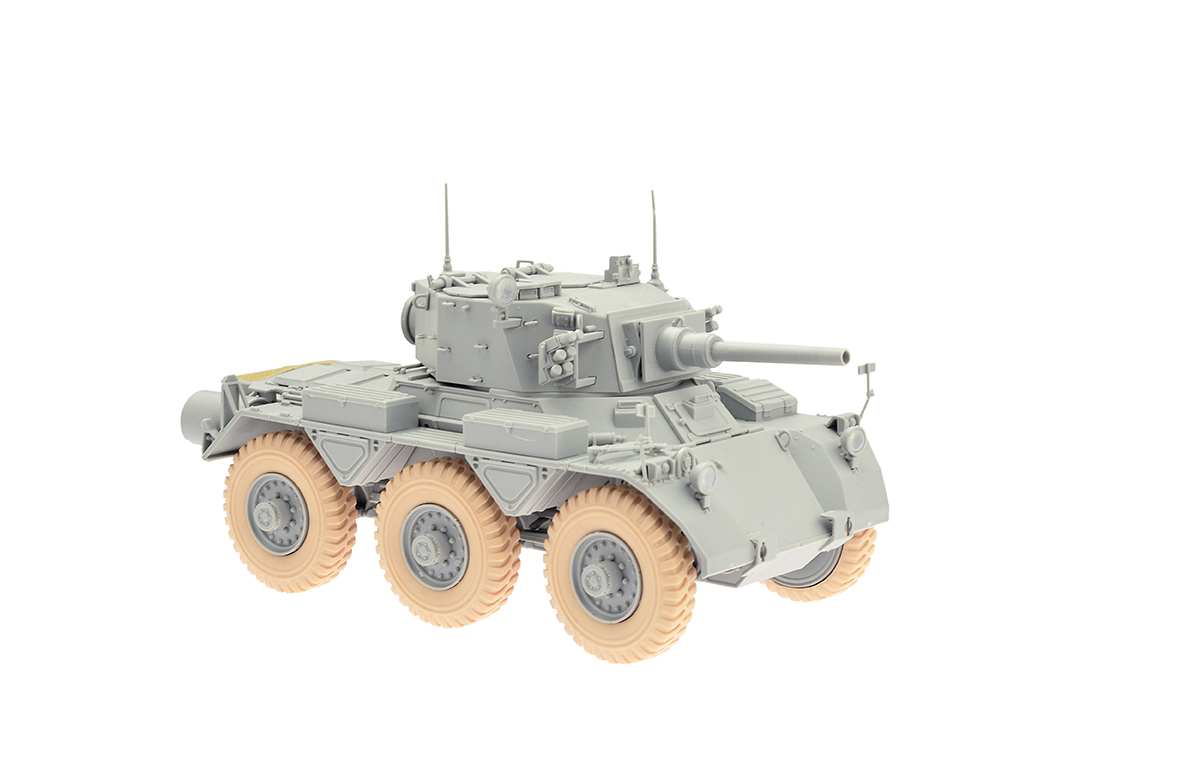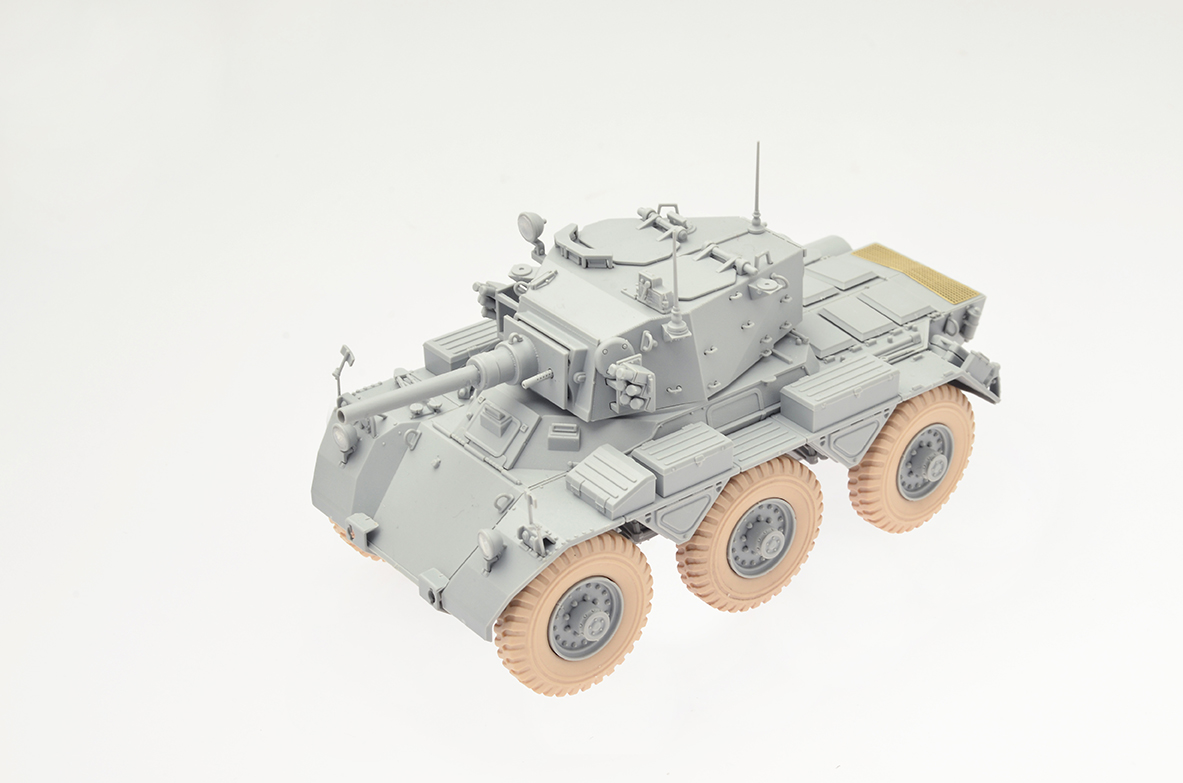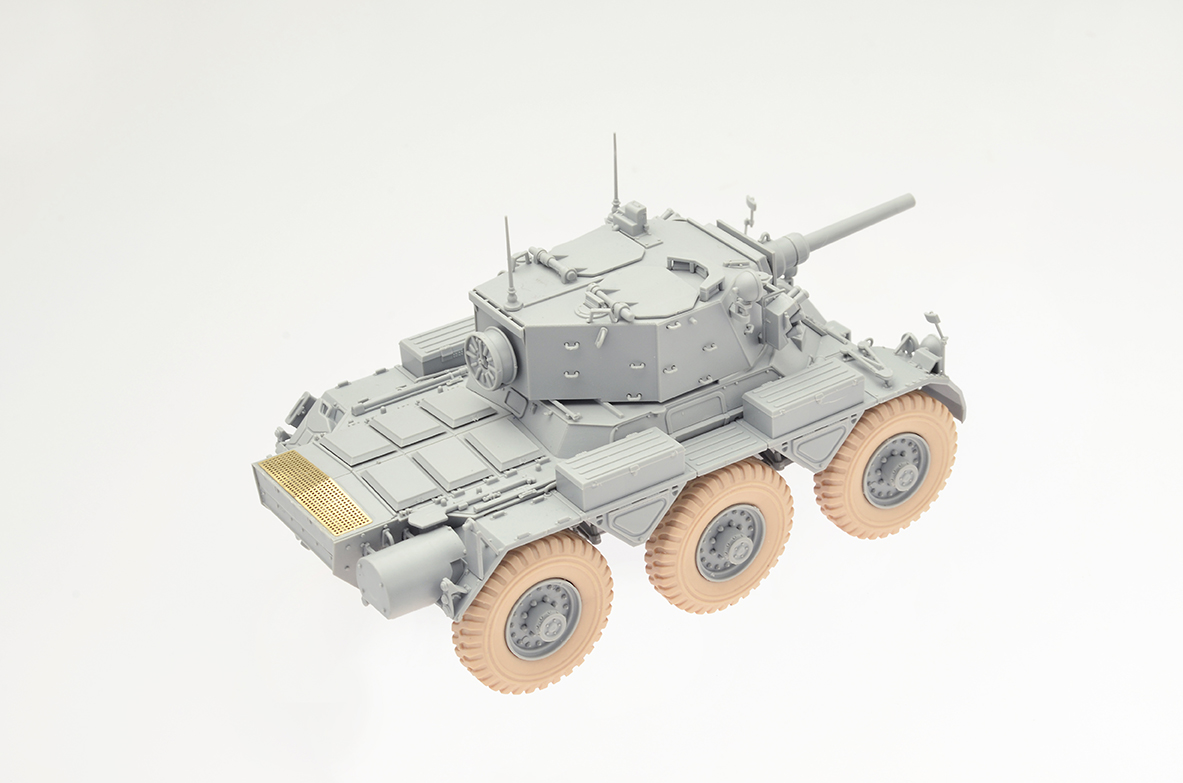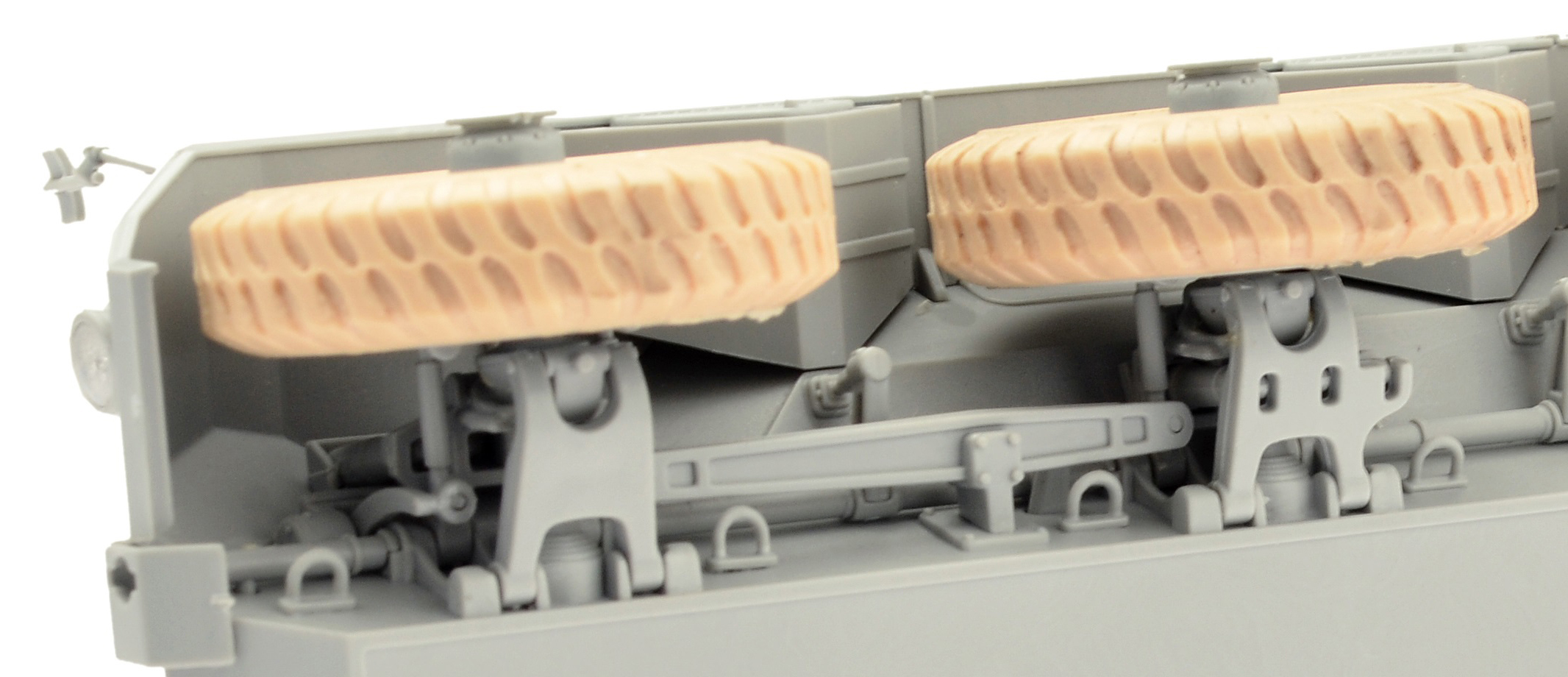 Barcode: 0 89195 83554 3
Case Pack: 12 pieces per master carton
Box Size: 9.6" x 15" x 2.8"
The Black Label collection from Dragon already offers a tantalizing range of novel model kits. The latest item is another subject designed to titillate – a 1/35 scale replica of the Alvis Saladin Mk.II FV601(C) armored car. Bearing similarities with the Saracen armored personnel carrier, this 6x6 armored vehicle was widely used by the British Army from 1958 onwards, as well as by many other militaries. Production ended in 1972, by which time 1,177 examples had been manufactured. The 11.6-tonne Saladin featured a turret mounting a 76mm L5A1 gun and a coaxial M1919A4 machine gun, and it was operated by a crew of three. A Rolls-Royce B80 Mk.6A engine powered the vehicle to a top speed of 72km/h. Saladins were widely used in Oman during the Dhofar conflict rom 1972-76, as well as in Cyprus (1970s), the defense of Kuwait (1990) and the Sri Lankan Civil War. In British service the Saladin was eventually replaced by the Scorpion CVR(T).
As to be expected for such an innovative subject, the 1/35 scale Black Label kits employs brand~NEW TOOLING~. The distinctive form of the Saladin's armored hull is accurately replicated. Full treatment is also given to the chassis and to the many components that are all but invisible when the vehicle is upright. Thus, the upper and lower links of the suspension, plus the longitudinal torsion bar system, are all beautifully recreated in miniature. For fans of British Army armored vehicles, this Saladin Mk.II is an exciting release. Furthermore, the vehicle was used so widely by numerous other countries that many other mouthwatering modeling opportunities present themselves.
Subject: Review - DML 1/35 scale British Armoured Car Saladin Mk. 2
Kit Review: Dragon Models Limited 1/35 scale Black Label Series Kit No. 3554; British Armoured Car Saladin Mk. 2: 237 parts (226 in grey styrene, 6 DS Plastic tires, 4 clear styrene, 1 etched brass); pre-order price US$67.99 via Dragon USA Online
Advantages: first new kit of this vehicle in this scale in styrene in nearly 50 years; nicely done layout and detailing
Disadvantages: no interior whatsoever
Rating: Highly Recommended
Recommendation: for all Commonwealth and Export fans and wheeled AFV fans
The British Army, more so than many others, has preferred wheeled vehicles for many missions and used a plethora of them in WWII – armored cars, scout cars, reconnaissance cars, and security vehicles of varying mobility and firepower. After the war they took their time finding suitable replacements for the WWII vehicles.
The big winner here was Alvis, who designed a complete series of vehicles that were numbered in the FV600 series. The armored car member of the family, the Saladin, was FV601 and used the same 6 x 6 chassis to all of its relations. It was a compact vehicle with a Rolls-Royce V-8 gasoline engine and sufficient fuel for a road range of 400 kilometers, armed with a 76mm short gun and two .303 machine guns (later 7.62mm), one coaxial and one free mount on the turret. Protected by 16mm armor and able to fire either HESH, HE or HEAT ammunition, it was a very capable machine when introduced in 1958.
Over its 14 year production run 1,177 Saladins were built and wound up in the armies of some 36 countries, with their most recent usage being in 2009. Most Americans probably last remember them as part of the Kuwaiti defense forces in 1990 valiantly trying to fight off Iraqi T-72 tanks as seen on their TV screens.
The vehicle has always been popular with modelers but not model companies. The only two styrene kits of this vehicle up until now have been a very bad and very ancient one from Tamiya (sized for a motor package and not scale per se) and an HO one from ROCO. Resin kits have been around for several years, but this kit is the first new mold version of a Saladin to hit the market.
DML at least asked two highly knowledgeable people about the Saladin: Ken Jones, editor emeritus of "Military Modeling", and Peter Brown, editor emeritus of the "Track-Link". The result matches all of my references for the vehicle, and as noted above is very petite compared to the Tamiya kit of years gone by.
It come with a two-piece hull (upper and lower) so that in theory an FV603 Saracen or FV620 Stalwart could also be coming behind it as they all share the same drive line and components. The model uses DML's successful wheel system of a DS plastic tire with no mold lines to speak of and a styrene backing plate and rear section, which gives the best overall representation of the tires and wheels. While most of the hatches are separate components, there is not a bit of an interior in either the hull or turret, so the latter will need figures or some work to fill the openings if the hatches are left open.
The very beefy suspension is nicely done so that the parts are "ganged" together - four shock absorber/spring unit at each corner and three per side in the center. The fender units are built up from elements and components but the stowage bins are sealed.
The turret hatches may be permitted to operate if the modeler so desires but as noted there is no interior in the turret nor is there any interior face to the hatches. The latter is surprising in this day and age and I am sure some enterprising after-market company will address that with a detail set for this kit.
The smoke projectors all are provided as separate parts and each cluster consists of some nine parts. The only etched brass part in the kit is the grill screen for the rear vents in the hull.
Six different finishing options are provided: B Sqn 1 RTR Cyprus 1975 (black/green with number plates); "British Army" (black/green with code 31 and number plates); Queen's Royal Irish Hussars, Brunei 1963 (black/green with code 31, crossed scimitars and number plates); A Sqn Queen's Own Hussars, 1966 (green overall, unit insignia, number plates); B Sqn 3 RTR Sharjah, Persian Gulf 1968 (sand/green, unit insignia, number plates); B Sqn 3 RTR Sharjah, Persian Gulf 1968 (sand/green - different scheme, unit insignia, number plates). A small but very busy Cartograf sheet is provided for the markings.
Overall this is a nicely done kit, but for the cost a few more details would have been appreciated.
Thanks to Freddie Leung for the review sample.
Cookie Sewell
Sprue Layout:
A 70 Fenders, turret details, gun, jerry can
B 36x3 Wheel backs, tie-downs, lifting rings,details
B 23x Stowage bins, suspension details
C 2 Hull halves
D 6 DS Plastic tires
E 4 Clear styrene
MA 1 Etched brass

ITEM NUMBER:
3554
SCALE:
1:35
BARCODE:
089195835543
RELEASE DATE:
November 2014
SERIES:
DISCLAIMER: While all models portrayed in website photographs represent actual models, please note that these are prototypes and that final model products may vary slightly
Copyright 1998-2016 Dragon Models Limited. All Rights Reserved.