1/35 s.I.G.33 auf Fgst.Pz.Kpfw.III(Sfl.)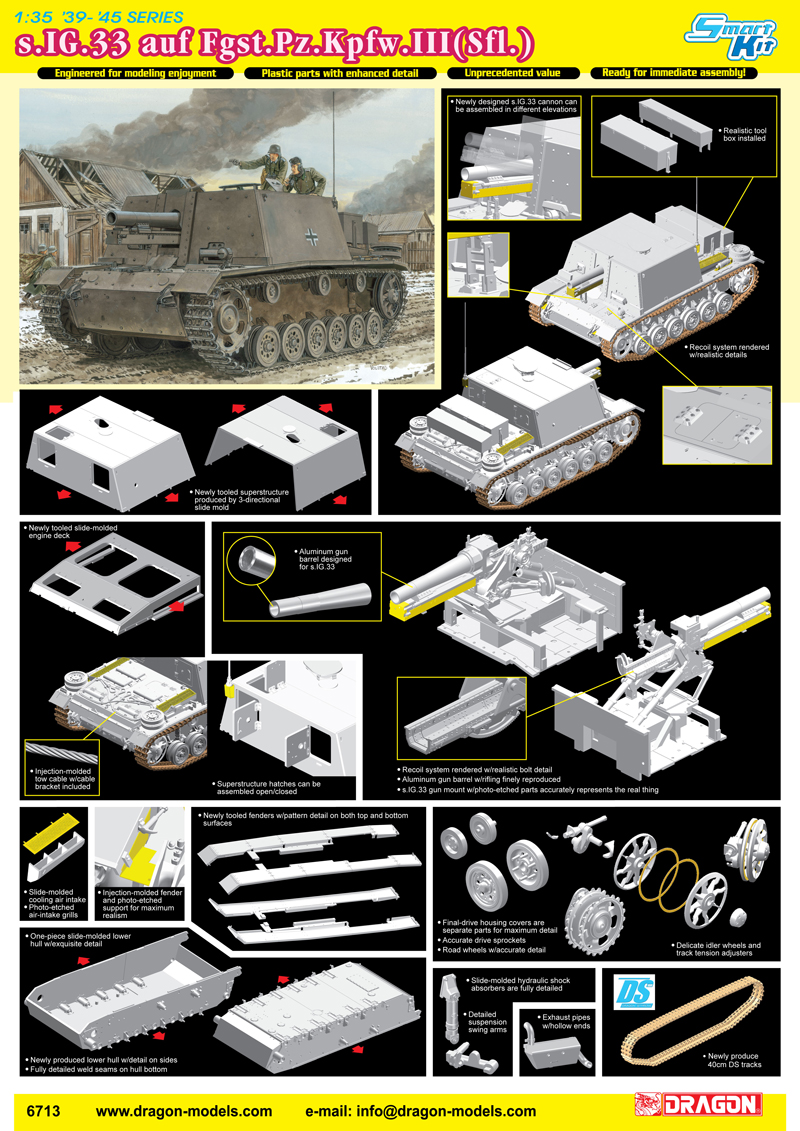 Barcode: 0 89195 86713 1
Packaging: 20 Pieces per carton
Box Size: 9.6" x 15" x 3.1"
Features:
Newly tooled superstructure produced by 3-directional slide mold
Newly tooled slide-molded engine deck
Brand new Sturminfanteriegeschu"tz 33 realistically produced
Newly produced lower hull w/detail on sides
Gun can be adjusted up/down
Recoil system rendered w/realistic details
Realistic tool box installed
Superstructure hatches can be assembled open/closed
Injection-nolded tow cables for engine deck w/cable brackets included
Armor plates feature realistic weld seams
Aluminum gun barrel designed for s.I.G.33
s.I.G.33 gun mount accurately represents the real thing
Recoil system rendered realistic bolt detail
Aluminum gun barrel w/rifling finely reproduced
Fenders w/pattern detail on both top and bottom surfaces
Injection-molded fender and photo-etched support for maximum realism
Slide-molded cooling air intake
Photo-etched air-intake grills
One-piece slide-molded lower hull w/exquisite detail
Fully detailed weld seams on hull bottom
Delicate idler wheels and track tension adjusters
Final-drive housing covers are separate parts for maximum detail
Accurate drive sprockets
Road wheels w/accurate detail
Slide-molded hydraulic shock adborbers are fully detailed
Detailed suspension swing arms
Exhaust pipes w/hollow ends
Details DS track provided

The sIG33 auf Fgst.Pz.Kpfw.III(Sfl.) was a heavy infantry gun mounted on a StuG.III chassis. It's also the subject of Dragon's newest 1/35 scale kit release. Fortunately, modelers will find this kit much easier to assemble than it is to say or spell its name! The Sturm-Infanteriegeschu"tz 33B featured a 15cm sIG33/1 gun in its boxy superstructure. Just 24 of these 21-tonne weapons were produced by Alkett from December 1941 onwards. They utilized a StuG.III Ausf.E or F/8 chassis. Five crewmen operated this self-propelled gun that was used exclusively on the Eastern Front. Half fought in the bloody Battle of Stalingrad from October 1942 onwards, where their heavy guns could effectively demolish buildings in the bitter urban combat. The remaining vehicles didn't reach Stalingrad because the German 6th Army was encircled by that time, so instead they deployed with the 23rd Panzer Division.
Dragon's 1/35 scale new model of the s.I.G.33 auf Fgst.Pz.Kpfw.III(Sfl.) bears no relation or comparison to the old Sturm-Infanteriegeschu"tz 33B kit released many years ago. The lower hull is brand new, as is the slide-molded fighting compartment superstructure. Even internal details such as the mount for the sIG33 gun are all new, as are the large stowage boxes on the rear deck. The running gear and Magic Tracks have been borrowed from Dragon's newest Panzer III kits, meaning they're of the highest and latest quality. The old kit used to be very popular with modelers, and now Dragon has delivered a fantastic new model that will satisfy the highest demands of contemporary modelers.
---
Reviews:
---
s.IG.33 auf Fgst.Pz.Kpfw.III(Sfl.)
Manufacturer: Dragon models
Scale: 1/35
Material: Styrene, aluminium & PE
Serial Number: 6713
Price: TBA
Introduction
The latest in their Smart Series range, this kit is of the s.IG.33 auf Fgst.Pz.Kpfw.III(Sfl.), basically a 15cm s.IG 33/1 infantry gun mounted in a box-like superstructure onto a recovered StuG.or Panzer III chassis. Research into who manufactured them is apparently conflicting, but agrees that only twenty-four were manufactured, half of which ended up taking part in the Battle for Stalingrad, the other half being re-assigned since they were unable to get there.

Kit Contents
This kit is another of those sorts of kit that is difficult to re-pack once everything is out of the box...stuffed. Not that difficult to explain though, as one glance at the front of the instructions will offer a clue as to why. There is an awful lot in this one that is marked as 'not for use', and therefore an awful lot of parts that will end up in your spares box at the end of the build. The amount of blue on that first page is an indication as to the origins of the kit, and also the origins of the original vehicle in a way, since it was constructed in the main by mating components that already existed.

There appear to be four brand new sprues included in the kit, three of which are small and one large one. Below you can find them marked with a red asterisk. Every other sprue has been seen in an earlier release in one form another. There are sprues from Dragon's Pz.Kpfw.III kits, their StuG.III Ausf.G kits, the Pz.Kpfw.III Ausf.J Initial kit, and of course the s.IG. infantry gun kit. Of course, the photo-etched frets and decal sheet are also manufactured specifically for this new release.

To concentrate on the new sprues for a moment, the larger one consists of parts to assemble the new fighting compartment and superstructure for this model, the main shell of which is supplied as a slide-moulded part with just the front wall being provided as a separate part. On the other three smaller sprues there are parts to construct the new large stowage boxes on the rear deck, together with a new glacis and it's hatches, and lastly, the necessary parts to mount the gun itself to the vehicle. Whilst looking below you might also see the one picture marked with a yellow asterisk...that one isn't shown on the parts map, and I can't find either of the two parts it holds actually used on the instructions anywhere?

Construction-wise, if you're at all familiar with the Dragon StuG III kits, then this one should hold no surprises for you, at least until you get to the fighting compartment anyway. The moulding, detail and engineering are well up to the usual high Dragon standards. The construction begins with the assembly of the suspension parts onto the one-piece lower hull. The suspension is of the torsion bar type, which are supplied for fitting inside the lower hull, before moving to the assembly of the parts for the rear wall. As these are all made from parts previously release in other kits, there are some smaller details to be removed from these parts, all of which are indicated on the instructions. The running gear is then installed, consisting of two-part drive sprockets and idler wheels, these latter having photo-etched inserts sandwiched between their two halves for greater detail. The tracks supplied in the kit are of the individual link 'Magic Track' type, and supplied in two different shades of grey in separate bags to aid construction. There are two extremely small ejector pin marks on each of the links, and although it's possible to assemble them, most modellers will probably feel the need to removes them. As the vast majority of these are prominent, rather than recessed, it's a long job but not that difficult.

The fenders are then assembled, and all their associated tools etc. fixed to them. The fenders themselves are very nicely moulded, with tread pattern on both sides. Most of the tools are not supplied with photo-etched clamps as alternatives, and some with moulded on clamps, so there are some holes that need to be drilled through the fenders the locations of which are shown on their lower surface. I quite like this way of doing it, since if you do choose to supply your own aftermarket photo-etched clamps, there are no holes to fill, and no 'lost' pattern.

The engine deck is next, this being a brand new one specific to this model with slightly different detail. Although there's no engine detail provided beneath this, the access hatches are all provided as separate parts allowing for the use of aftermarket engines etc. For the characteristic tow rope usually stowed in this location on a StuG and on this vehicle, there are three options provided. We're offered a styrene version already moulded into an appropriate shape, a set of empty clamps, and also a metal cable to fit into the empty brackets should you choose.

At this point in the construction it's time to begin the assembly of the fighting compartment. As mentioned earlier, the main shell of the superstructure is provided as a slide-moulded part with roof, side and rear walls already in place. These are devoid of detail, although as we'll see later, there is quite a lot of detail provided for inside the fighting compartment once the superstructure is complete. Onto the main shell, the front wall is fixed, and is composed of two layers, a one-piece structural part over which two armoured side panels are fixed, along with various details to represent the MG mount, armoured visors etc. Separate hatches are provided for the roof and rear wall, each of which only has minimal detail on their inner surface. For the MG34 on the right side of the fighting compartment a full version is provided given that it can be seen through an open hatch.

Construction of the gun is...initially at least...similar to construction the infantry gun version released as kit no. 6261. This is beautifully detailed and is now provided with new photo-etched parts for the slide, and other detail. The barrel included is a machined aluminium one with internal rifling too. The most complicated part of assembling the gun is the mount. This too is beautifully moulded and includes new parts specific to fixing the gun into this vehicle. Once assembled, the gun and mount are fixed to the fighting compartment floor which is the one from the StuG III kit. With a rear firewall, this provides most of the internal detail and should provide more than enough detail to be seen through open hatches. Once fixed in place, with the fighting compartment also fixed, the only thing left to do is fit the characteristic large stowage boxes to the rear deck. These too are brand new, tooled specifically for this release.

Markings-wise, three versions are shown on the instructions, one in overall panzer grey, and two in camouflage schemes over dunkelgelb. The panzer grey version is that of a vehicle in Stalingrad, whilst the other two are depicted as vehicles in Panzer Regiment 201, 23rd Panzer Division in 1943 after being reassigned from the 22nd Panzer Division. See below for further detail.

*Note that Tom Cockle, one of the 'technical consultants' for Dragon, has indicated on Missing Lynx that due to logistical problems a couple of errors on the instructions crept through. When I find out what they were I'll add them here.
Conclusion
It's beautifully engineered, beautifully moulded, and is of such an unusual variant that most Axis modellers will want one in their collection...what's more they'll have a whale of a time building it too! Highly recommended!
- Vinnie Branigan
ITEM NUMBER:
6713
SCALE:
1:35
BARCODE:
089195867131
RELEASE DATE:
November 2011
LAST UPDATE:
10/20/2011
SERIES:
DISCLAIMER: While all models portrayed in website photographs represent actual models, please note that these are prototypes and that final model products may vary slightly
Copyright 1998-2016 Dragon Models Limited. All Rights Reserved.