1/35 SAS 1/4-Ton 4x4 Patrol Car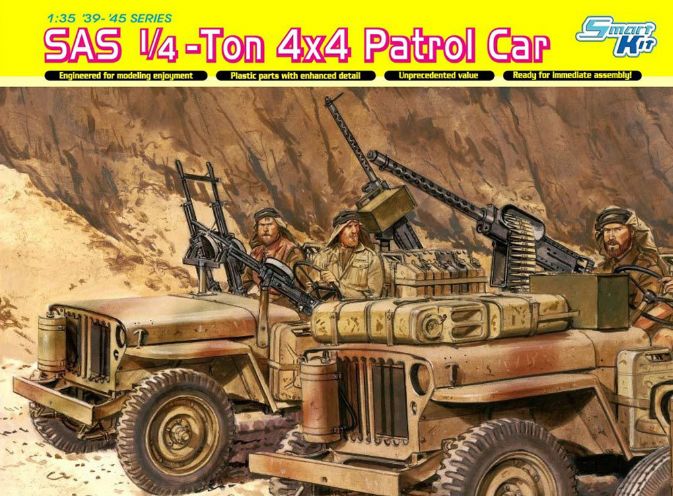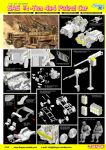 Barcode: 0 89195 86745 2
Case Pack: 24 pieces per master carton
Box Size: 8.7" x 11" x 1.8"
Features:
Authentic Patrol Car w/excellent rendering detail
Realistic Vickers K machine guns/superb details
Condenser and modified front grille accurately replicated
Well-defined engine grille
Realistic produced .50 cal and Vickers 'K' MGs w/photo-etched parts
Detailed dashboard and driver's compartment
Complex engine represented by multiple parts
Well-detailed seats w/realistic cloth pattern
Compartment sides rendered w/rivets and fine details
Slide-molded upper and lower body tubs
Finely detailed steering mechanism and suspension system
Highly detailed chassis
Detachable jerrycans w/photo-etched straps
Photo-etched sand channels on rear of the Patrol Car
Well-detailed wheels produced w/authentic tire tread pattern
2 realistic 1/35 scale figures
Joining Dragon's previously released 1/35 scale plastic kit of a Desert Raider 4x4 Truck is this second kit with a different weapons configuration! The famed Special Air Service (SAS) of the British Army was formed in July 1941 by David Stirling. It was a commando force designed to operate deep behind enemy lines,something it did very successfully. Specially adapted vehicles were used in North Africa, including the famous 4x4 1/4-ton Truck, though heavily modified for its behind-the-lines role. The vehicle began appearing in July 1942. They were generally stripped down to save weight and, for operations in the hot climate,the grill was removed and a water condenser fitted. Weapons such as Lewis and Vickers K machine guns were mounted for use against ground or aerial targets.
Dragon's newest 1/35 scale kit depicts a vehicle heavily modified for desert operations by the SAS and LRDG. It is heavily loaded with weaponry different to the preceding kit release. While it still has a Vickers K twin machine gun up front, in the rear is a .50-cal machine gun. As before, jerry cans containing spare fuel and water, to allow reconnaissance missions deep behind the frontlines, are added. Even the complete engine is included, which allows a modeler to depict a maintenance scene. Also of great utility is this kit's brand new two-man crew,showing SAS members in typical garb. When this kit and the earlier one are combined, modelers have the makings of a potent SAS team ready to range across the desert sands of North Africa!
---
Review:
---
Kit Review: Dragon Models Limited 1/35 scale '39-'45
Series Kit No. 6745; SAS 1/4 Ton 4 x 4 Patrol Car - Smart Kit;
276 parts (225 in grey styrene, 47 etched brass, 4 clear styrene); pre-order price US$34.99 via Dragon USA Online

Advantages: corrections made to previously released kit; nice new set of US jerry cans; "bookend" kit to match up with No. 6724

Disadvantages: some problems with ejection pin marks on body; very high price for small kit

Rating: Highly Recommended

Recommendation: for all Commonwealth desert raider fans

As noted with the previous SAS Jeep kit, Lieutenant Colonel David Sterling is one of the legendary figures to arise from British operations in North Africa and his Special Air Service (SAS) forces were long noted for their long range operations. One of the iconic photos of those operations has him standing next to a patrol led by a Lieutenant McDonald in a modified Willys MB jeep.

This kit is the "bookend" match to the previous upgraded SAS "Desert Raider" kit (No. 6724) and includes all of that kit's corrections but modifies the armament used on the vehicle. Note that once again because of the Chrysler Corporation demand for royalties for using the name "Jeep" this kit, like the Opel Blitz before it, does not state what it IS but just sort of what it DOES.

As it has corrected parts as well as some nice new ones it now comes on four sprues - two different wheels and tires are offered - but the body and frame are removed from their sprues and bagged separately in the box. The body is slide molded with all but the grille and rear plate. There are some serious injection pin marks on the bottom of the body and under the fenders, but other than the fender wells I don't think most modelers will bother with removing them.

The frame is also one piece with all braces and the rear "bumperettes" molded in place. A so-so tow hook is also molded in place on the frame, but as the opening section of the military hitch is provided (part B45) as a separate part it will probably look better when assembled.

The drive line is typical of modern kits, axles with differentials and a separate differential cover, separate shock absorbers, steering links and a tie rod. The transfer case comes with the front drive shaft in place but the rear one is a separate part. The wheels are conventional front half with all tread/rear insert type (staggered tread pattern) and separate brake drums. Springs are the usual type, but the skid plate comes with the muffler attached (part B41) which is new to me for an assembly.

The model comes with a cut-out grille but then emphasizes a new correct molded full grille which comes with the new set of universal tires. The Mark IA eyeball tells me they are virtually identical other than the missing bars, so apparently DML has corrected the original grille with incorrect spacing and location of the blackout lights.

As some vehicles did use them the model comes with both an improved set of universal (combat) tires and wheels and a set of "street" tires built up from five sections, two tread sections attached to either side of a central disk section. But all of the photos I can find of the SAS modified jeeps show them with normal 7.00 x 16 universal tires on them. Be that as it may, they are in the box.

This kit comes with four German "jerry" cans and 8 new mold US models. Each of these has a separate body and top section, handle, and choice of screw (fuel) or flip-up (water) lids. Etched brass tie-down straps are included for all of these cans to attach them to the vehicle. Five go on the hood, four on each side in the passenger compartment. Two spare tires and two etched brass sand channels go on the rear of the jeep.

This vehicle offers a choice of armament to match either one of the other Jeeps in the famous photo of Colonel Stirling and Lieutenant McDonald. It can be built with either twin K guns on the dashboard mount and a single M2 air-cooled .50 caliber on the pedestal mount, or vice versa. A third K gun is mounted for the use of the driver. All are slide molded with hollow bores and come with six magazines for the K guns (with etched brass handles).

The engine consists of 15 parts and looks the part, and it comes with a separate radiator. This consists of three main parts, but it also has the headlights and blackout lights attached. These take clear lenses (for those who wish to use them) and must be installed before the radiator is mounted to the body. It also comes with an expansion tank (part B21) but no hoses are provided to connect them.

The seats have separate pads and backs, and the controls are very complete, to include pedals and a sun compass (part B18).

The same set of figures from Kit 6724 are included with this one as well. They are basically the same torso and legs with new heads and arms to differentiate the driver and the passenger. Ron Volstad's faithful copy of the iconic photo provides the best color and finishing options for these figures.

There are three finishing options: all three are for the SAS in North Africa and vary from sand with grey, sand with green, or all sand. There is no information if any of them used the street type tires and wheels. A tiny sheet of Cartograf decals are included for the instruments and "Water" stencils on the suitable cans.

Overall this is an alternate or complimentary model for the first kit (6724) and can help created a nice diorama (especially if you can find a Stirling figure!)

Thanks to Freddie Leung for the review sample.


-Cookie Sewell-
ITEM NUMBER:
6745
SCALE:
1:35
BARCODE:
089195867452
RELEASE DATE:
April 2013
LAST UPDATE:
4/30/2013
SERIES:
DISCLAIMER: While all models portrayed in website photographs represent actual models, please note that these are prototypes and that final model products may vary slightly
Copyright 1998-2016 Dragon Models Limited. All Rights Reserved.