1/35 Pz.Kpfw.IV Ausf.D DAK Tropical Version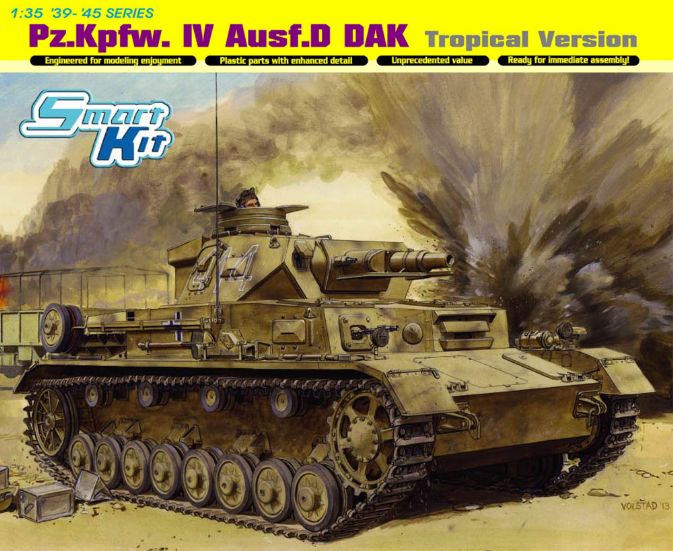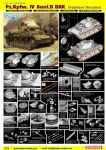 Features:
Authentic Pz.Kpfw. IV Ausf.D DAK Tropical Version rendered w/full detail
Newly tooled antenna w/ delicate detail
Spare wheel rack w/well-defined wheel
New Smart Kit Technology for suspension system and road wheels
Newly tooled sprocket wheels w/ multiple parts
Turret rendered w/excellent detail
Realistic mounting ladder made from photo-etched parts
Well-defined one-piece hull w/side armor
Lower hull formed from multiple parts for greater detail
Newly produced one-piece DS tracks
Side hatches w/hinges can be assembled open/closed
Pistol port can be shown open/closed
Storage bin can be assembled open/closed
Signal port and ventilation cover can be assemble open/closed
Hollowed-out undercut on turret bottom
Incorporates toothed turret ring on turret interior
Turret turntable unit included
5-directional slide-molded commander's cupola authentically recreates structural details
Muffler subtly produced
Subtle front turret armor and mantlet
Realistic KwK.37 L/24 gun mimics the original
Delicate catcher for spent ammo shells
Accurate rifling gun barrel
Commander's, loader's and gunner's seats included
Turntable w/accurate floor pattern
Vision port w/open/closed option
Cupola hatches can be assembled open/closed
Correct driver's vision port can be modeled open/closed
Both regular and DAK-type engine deck hatches available
Complete MG w/workable MG ball mount
Delicate pistol port
Realistic double-layered air intake
Direct sighting port included
Separate front and rear fenders can be posed in a folded-back position
Slide-molded coaxial MG w/hollow muzzle
Full coaxial MG Assembly
Commander's hatch w/interior detail
Clear parts for vision port sight port sight glass
Direct sighting port included
Fuel filler cover has open/closed option
Towing-eye brackets presented w/multiple parts
Separate front and rear fenders can be posed in a folded-back position
Optional bolts for added detail
Final-drive housing w/details on both sides
Idler adjuster mountings have accurate details w/gears inside
Correctly detailed idler wheels w/numerous separate parts
Astoundingly delicate slide-molded
On-vehicle tools w/photo-etched clasps
Injection fenders are made to the thinnest possible dimensions
Fans and coupling assembled w/multiple parts
Extendable jack, headlights and tow cables w/hollow ends produced w/subtle detai
Dragon offers a pretty complete lineup of the popular Panzer IV family tree in 1/35 scale, but owing to the vehicle's widespread use by German forces throughout the entirety of WWII, there's always room for something new and special! Thus, the newest Panzer IV plastic kit from Dragon is an Ausf.D Tropical Version, a type used in combat in North Africa. Production of the Ausf.D commenced later in 1939, with some 248 produced altogether. Improvements included the reintroduction of the hull machine gun and an external mantlet instead of the previously used internal one. Side armor was thickened to 20mm too. The Deutches Afrika Korps (DAK) used it in North Africa though it was soon superseded by more effective longer-gunned versions.
This 1/35 scale kit is a fantastic offering, which adds appeal to the Ausf.D already available in the collection. That particular model released earlier was sophisticated and extremely detailed, though novice modelers may have found it a challenge. However, this Ausf.D DAK version has received the Smart Kit treatment, which means it's now incredibly easy to assemble. This is obvious when it comes to details such as the road wheels and other parts of the running gear. The end result is a tank that modelers can put together without any fuss, straight from the box. And speaking of the box, the artwork on the lid by Ron Volstad will surely inspire modelers. It shows an impressive scene of the tank in full combat mode. With this illustration before their eyes, modelers will almost feel the sand between their fingers as they plan their next North African diorama scene!
---
Review:

6779: Pz.Kpfw. IV Ausf. D DAK (Tropical Version)
1/35 kit with PE and decals
The Ausf D was the most numerous of the short barrelled Panzer IVs during the early period of the North African campaign and the invasion of Russia. 232 Ausf D were produced from October 1939 to October 1940 with approximately 30 converted to the 'tropen' version for use with the Deutsches Afrika Korp (DAK) in North Africa. This version had a higher fan speed and hatches with ventilation slots.

CONTENTS
This new Panzer IV Ausf D contains a mix of new parts and existing modern tooling from Dragon's 2006-2008 releases of the Panzer IV D. The new parts include the antenna, PE fret and a new Smart Kit suspension with one piece tracks. The new suspension includes new road wheels, bogie mountings and drive sprocket which have fewer parts and will simplify assembly without loosing any finesse. This approach offers the best of both design approaches by combining the convenience of the Smart Kit suspension with the crisp detail and features of the previous upper hull and turret which is where I most appreciate having the extra parts and features. Personally I consider this makes a very rewarding kit which has all the benefit from the positive fit and easy clean up of Dragon's modern Panzer IV kits.
Key features of the Ausf D (compared to the Ausf E) are a turret shell with the cupola extending into the rear plate, option of early style road wheel hubs, different drive sprocket, changed frontal armour and driver's visor and commander's cupola. This kit has the Ausf D's original armor (i.e. no supplementary armor (zusatzpanzer)).
The gatefold instructions have 21 steps of line drawings. The instructions are easier to follow than those from the previous Ausf D releases (e.g. kit 6265).
The new PE fret is focused on key parts and includes the small mounting step/ladder on the left hull/fender which is made from 8 PE parts and 2 plastic rods, brackets for the jack, hull detail, small detail for the smoke canisters, and optional brackets for some on vehicle tools.
TURRET
The Ausf D turret shell has the earlier profile for the rear plate and plenty of cast in detail for rain guards, hinges and countersunk screw holes. The Ausf D commander's cupola is slide molded and quite detailed. The triangular plates on the lower front of the turret match scale plans and there is considerable interior detail including the turret crew seats, turret floor with anti-skid, clear plastic vision blocks, breech with catcher for spent cases, toothed turret ring and coaxial MG. The turret stowage box and its mounting hooks are included.
Most hatches and turret ports can be positioned open or closed including the commander's hatch, ventilation hatch cover, side hatches (with interior detail and clear plastic vision blocks) and signal ports.
The injection plastic Kwk37 L/24 gun has rifling inside the muzzle. Alternative plastic parts give the choice of early (with recessed screws) or late (no screws) style barrels.
IMPROVED HULL
The lower hull is based around a one-piece hull tub that has considerable detail on the underside and cast on mounts for the return idlers. Close examination of the hull reveals plenty of Ausf D features that show an attention to accuracy.
On the lower hull separate parts are provided for small detail such as the rear idler mount, early design frame for the smoke candles, track tension adjustors, bump stops, tow hooks, and towing pintle. The drive housing is now assembled from four parts and the drive sprockets themselves are new tooling. The main exhaust is a detailed multi-part assembly with some slide-molding, a hollowed outlet, and exhaust pipe.

The road wheels have the tyre and rim as one piece (two units per bogy) and have separate hub-caps (correct profile) with small screw heads finely reproduced.

The earlier style hubcaps, as typically fitted to new production Ausf D, are included (flatter profile), along with the later style (as per the Ausf.E) with the recesses for the screws. This allows for a kit to be built with mixed styles as seen in some photos.
The bogies mountings (suspension) are new tooling with fewer parts but no loss in detail. The tracks are one piece Dragon Styrene tracks of the 40cm wide profile with open guide horns and no chevrons which are appropriate for an Ausf D in North Africa.

The side fenders have an impressive anti-skid pattern on the upper surface and underside and separate front and rear fenders. The jack is built from six parts and has separate PE brackets. The other tools have the claps etc cast on and you place them on the fender using the 1:35 scale plan on the instruction sheets as a guide after removing the positioning tabs. You get several PE brackets included on the PE as optional enhancements.

The upper hull is based on a single piece, which has excellent detail for the turret race, screw heads with slots, countersunk holes and rain guards. Both hatches on the engine deck can be modeled open, although you will need to supply your own Maybach HL 120 engine (several are available). The default hatches are the Tropen (Tropical) style with the vents (no lower baffles) intended for the DAK and underneath one you are provided with a four part cooling fan. The unvented hatches intended for use in Central and Western Europe are included as spares.
The forward armor and rear hull plate are well done with attention to detail such as the fine bolt heads and the counter sunk screw holes near the brake access hatches. The driver's and radio operator's hatches can be left open and the forward MG34 features the ball mount and the internal detail such as the grip and ammunition bag. The forward headlamp has the option of clear plastic lens or a covered lens, while the Notek light which was added in February 1940 is crisp..
DECALS

A medium sized decal sheet by Cartograf has markings for 6 Panzer IVs from the Afrika Korp in Libya in North Africa 1941. The decals include a variety of turret numbers, Balkan crosses (3 styles), and unit insignia.
Four are from Panzer Regiment 5, 1 Leichte Panzer and have dark yellow painted over the original dark grey which can be still be seen to varying extents. The turret numbers are white outlined 414 (box art), 812, 813 and 413.
A solid dark yellow Ausf D is from 15 Panzer Division and has the choice of black turret numbers 4, 7 or 8.
The last option is from 21 Panzer Division and is turret number 401 with a small amount of grey showing through the dark yellow.
RECOMMENDATION

This new Afrika Korp Panzer IV should be popular as it adds the benefits of the Smart Kit suspension to Dragon's Ausf D's well featured and crisp upper hull and turret. This release promises to be a rewarding kit to build. It will make an accurate front line kit out of the box, while the interior detail offers plenty of scope for those wishing a challenge. Definitely recommended.
-Neville Lord-

ITEM NUMBER:
6779
SCALE:
1:35
BARCODE:
089195867797
RELEASE DATE:
May 2013
LAST UPDATE:
5/16/2013
SERIES:
DISCLAIMER: While all models portrayed in website photographs represent actual models, please note that these are prototypes and that final model products may vary slightly
Copyright 1998-2016 Dragon Models Limited. All Rights Reserved.