1/700 German Battleship Bismarck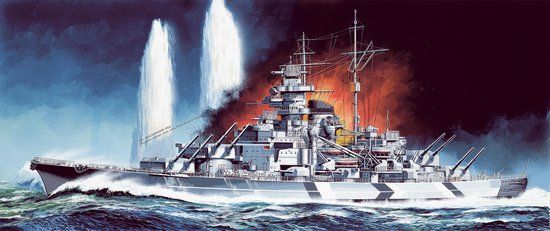 Barcode: 0 89195 87043 8
Packaging: 20 pieces per master carton
Box Size: 6.5"x18.5"x2.6"
DRAGON SECRET ITEM ANNOUNCEMENT!!!!
1/700 German WWII Battleship: Bismarck
This 1/700 plastic model of the Bismarck was based on the most up-to-date research. It is fully detailed and is a definate must build for ship enthusiasts!
Extra Features;
- Ship can be modelled in either water-line or full hull versions
- Rescue boats and aircraft are made of clear sprues to ease the painting process
- Photo-etched and Soft-Vinyl parts are included
- Decals by Cartograf
About the Bismarck:
The battleship Bismarck was named in honour of Otto Fu"rst von Bismarck, the architect of German unification and the arbiter of European politics during the second half of the 19th century.
Design of this ship started in 1934. During the design process, Bismarck's displacement grew to 42,600 tons, well over the 35,000 tons allowed by the naval agreement with the United Kingdom. She was launched on 14 February 1939, and commissioned in August 1940.
Because of the British numerical superiority in battleships, Hitler ordered the Kriegsmarine to target allied merchant shipping. Bismarck set off on this mission on her maiden voyage, leaving port on 18 May 1941. The Admiralty learnt of her departure from Allied spies who noted her passing the narrow straits between Denmark and Norway. Three days later, she was spotted by Allied reconnaissance aircraft while refueling in a Norwegian fjord and was soon acquired by the patrolling British cruisers Norfolk and Suffolk.
On 24 May 1941, accompanied by the heavy cruiser Prinz Eugen, she was found north of Iceland and engaged by the British battlecruiser Hood and the newly commissioned battleship Prince of Wales, which was still being worked up.
The Hood had relatively weak deck armour, and therefore wished to close with the Bismarck as quickly as possible (differences in armour become less significant as range decreases, and at close range the trajectory of the Bismarck's shells would not have been steep enough to hit the Hood's deck armour). However whilst doing this the Hood was fatally hit and quickly sank. The most plausible explanation for Hood's destruction is that one of Bismarck's shells penetrated its deck armour and struck a powder magazine. Hood exploded and rapidly sank, taking all but three of the 1,418 crewmembers with her. Prince of Wales, half its guns out of action, escaped under a smokescreen, but not before striking the Bismarck three times, one hit causing water to be introduced into fuel storage. The Bismarck headed for France and repairs, and although it continued to be shadowed by Norfolk, Suffolk, and Prince of Wales, it eventually broke away.
Determined to avenge the sinking of the Hood and hunt down the Bismarck, the British continued to shadow with an increasing number of ships following the Bismarck relentlessly and maintaining radar contact. An attack was made by Swordfish biplane torpedo planes from the aircraft carrier Victorious during the early evening of 24 May causing one hit.
On 26 May, at dusk, she was attacked by British Swordfish torpedo planes from the aircraft carrier Ark Royal. One torpedo hit jammed her rudder and steering gear, and she was rendered unmanoeuvrable. Throughout the following night she was the target of incessant torpedo attacks by the destroyers Cossack, Maori, O.R.P.Piorun (Polish), Sikh, and Zulu. On the early morning of 27 May 1941 she was engaged in an eighty-eight minute battle with HMS King George V, HMS Rodney, Norfolk, and HMS Dorsetshire. After being struck by in excess of 300 shells and five or six torpedo hits, the crew introduced measures to sink their own ship to prevent capture. The Bismarck finally sank at 10:40 am.
ITEM NUMBER:
7043
SCALE:
1:700
BARCODE:
089195870438
RELEASE DATE:
July 2004
LAST UPDATE:
5/21/2004
SERIES:
DISCLAIMER: While all models portrayed in website photographs represent actual models, please note that these are prototypes and that final model products may vary slightly
Copyright 1998-2016 Dragon Models Limited. All Rights Reserved.