1/72 Pz.Kpfw.IV Ausf.H w/Schurzen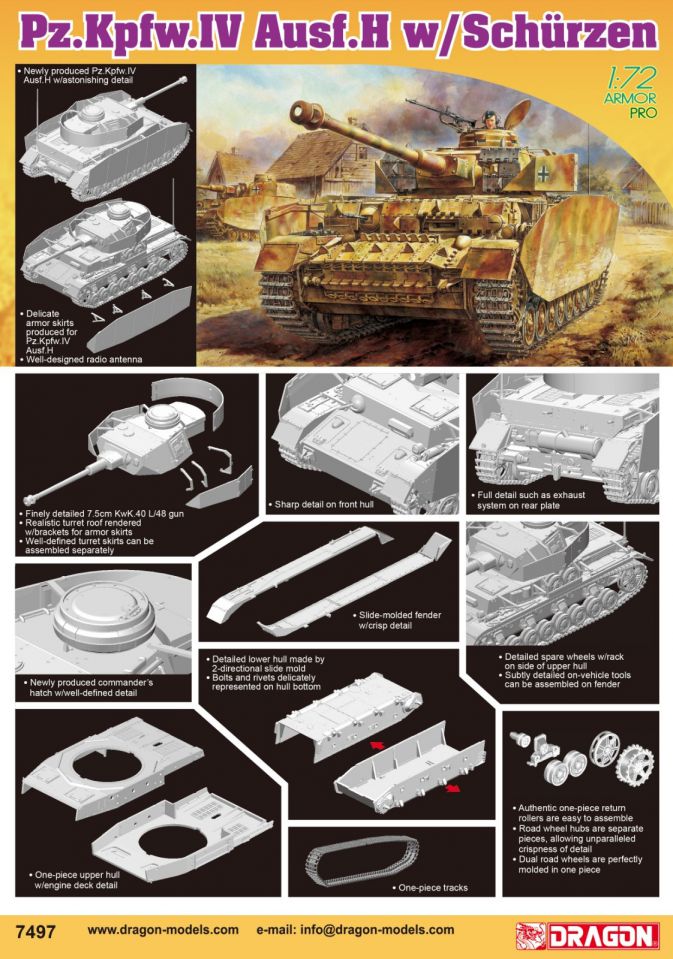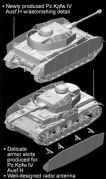 Barcode: 0 89195 87497 9
Case pack: 36 Pieces per carton
Box Size: 7.5" x 11.4" x 1.8"
Features:
Newly produced Pz.Kpfw.IV Ausf.H w/astonishing detail
Delicate armor skirts produced for Pz.Kpfw.IV Ausf.H
Well-designed radio antenna
Finely detailed 7.5cm KwK.40 L/48 gun
Realistic turret roof rendered w/brackets for armor skirts
Well-defined turret skirts can be assembled separately
Sharp detail on front hull
Full detail such as exhaust system on rear plate
Newly produced commander's hatch w/well-defined detail
Slide-molded fender w/crisp detail
Subtly detailed on-vehicle tools can be assembled on fender
One-piece upper hull w/engine deck detail
Detailed lower hull made by 2-directional slide mold
Bolts and rivets delicately represented on hull bottom
One-piece return rollers are authentically convenient to assemble
Road wheel hubs are separate pieces, allowing unparalleled pieces for crispness of detail
Dual road wheels are perfectly molded in one piece
One-piece DS tracks

Dragon offers a complete lineup of the popular Panzer IV family tree in 1/35 scale, and now gaps in the smaller 1/72 scale lineup are being filled too. The newest 1/72 Panzer IV kit from Dragon is an Ausf.H type. Production of the Ausf.H variant commenced in April 1943, and improvements included an 80mm-thick glacis plate and a layer of Zimmerit paste to prevent the adhesion of anti-tank mines. Side skirts were also added to the hull and turret to enhance the vehicle's protection. With all the new armor, the Panzer IV's weight increased to 25 tonnes.
This 1/72 scale plastic kit is a fantastic new offering, with the majority of its components being newly tooled parts. Examples include the complete turret, upper hull, fenders and Schurzen side skirts on the hull and turret. Utilizing research data and engineering experience with the larger 1/35 equivalent kit, the details on this Panzer IV are very accurately portrayed. The box supplies a generous selection of Cartograf decals that cover panzer divisions operating in locations such as the Eastern Front (e.g. Poland, Ukraine) and Normandy. These markings stand out, and will look impressive on a suitable diorama piece. Dragon has already released Pz.Kpfw.IV F, F2 and G kits, so the addition of the very popular Ausf.H comes as a welcome addition for modelers everywhere. In fact, when lined up alongside each other, collectors will be able to trace the evolution of the important Panzer IV tank.
---

Reviews:

---

DML 1/35 scale Pzkw. IV Ausf. H w/Schuerzen

Kit Review: Dragon Models Limited 1/72 scale Armor Pro Series Kit No. 7497; Pz.Kpfw. IV Ausf. H w/Schuerzen; 144parts (142 in grey styrene, 2 DS Plastic track runs); pre-order price US$24.50 via Dragon USA Online

Advantages: first new mold version of this variant of the Pzkw. IV in this scale by DML; details closing on their 1/35 scale kits

Disadvantages: No etched brass; all hatches fixed in place

Rating: Highly Recommended

Recommendation: for all mid-war German fans

F I R S T L O O K

Two years since their last 1/72 Panzer IV DML has now released a nice new kit of the Ausf. H with a complete set of schuerzen shields. While there is no etched brass provided, DML has used a variation on their "thin shield" molding so that the shields look very close to scale while being thick enough to use.

This kit is new but uses parts from their Brummbaer and self-propelled 8.8 cm on Panzer IV chassis kits as well.

The rest of the kit mirrors the construction of the larger 1/35 scale "Smart Kits" but with some assemblies either simplified or combined, as that makes better sense in this scale (in 1/35 some of the Pzkw. IV variants have upwards of 800-900 parts). Each bogie assembly here consist of five parts: carrier, road wheel pairs, and road wheel centers. Oddly the centers also appear to carry part of the tires, so other than molding fidelity it does not seem to offer any assistance for painting. Detail, however, is outstanding in this (or even some larger) scale.

The lower hull is in one piece (part B) but requires a separate bow plate applique and two-part stern plate. However, no track links or mounting are provided for the bow of this kit. The upper hull has all hatches fixed. Only the front upper glacis is provided as a separate part. The fenders are separate assemblies and attach in Step 5. Note that two holes need to

The turret is pretty detailed in this scale but uses a simplified gun assembly consisting of only 8 parts; the barrel is slide molded with a hollow muzzle brake in one piece and inserts directly into recoil housing; note that even the machine gun barrels are slide molded (as is the exhaust pipe on the muffler) so the modeler does not have to open them up.

The commander's cupola consists of only two parts and has the hatches sealed; ditto the side hatches.

Unlike other recent DML 1/72 kits no information is provided for the kit's track length or if they need to be stretched or clipped to fit.

Technical support was provided by Tom Cockle and Gary Edmundson.

Five different finishing options are provided along with a targeted sheet of Cartograf decals: Unidentified Unit, Eastern Front 1943 (tricolor, black crosses); Unidentified Unit, Vistula River, Poland 1944 (tricolor, black 923); 3rd Panzer Division, Ukraine 1943 (green spray over sand, crosses, red 624); 2nd Panzer Division, Normandy 1944 (tricolor, white 802); 2nd Panzer Division, Normandy 1944 (tricolor, white 823).

Overall this is a good kit but some modelers may be disappointed at the lack of etched brass and the fixed hatches.

Thanks to Freddie Leung for the review sample

-Cookie Sewell-
---

Pz.Kpfw.IV Ausf.H w/Schurzen
Manufacturer: Dragon Models
Scale: 1/72
Material: Styrene, vinyl
Serial Number: 7497
Price: TBA

Dragon:
Production of the Ausf.H variant commenced in April 1943, and improvements included an 80mm-thick glacis plate and a layer of Zimmerit paste to prevent the adhesion of anti-tank mines. Side skirts were also added to the hull and turret to enhance the vehicle's protection. With all the new armour, the Panzer IV's weight increased to 25 tonnes.

Kit Contents
The kit is made up of a number of grey styrene sprues plus two runs of tan-coloured vinyl tracks. A small decal sheet and six-sided instruction leaflet complete the contents. Despite the blurb supplied by Dragon themselves indicating that this version of the vehicle carried a coat of zimmerit, there is no moulded zimmerit coating on any of the kit parts.

We still get an almost perfectly formed Ausf.H to further the line up of Panzer IV's in this scale from Dragon. The lower hull is supplied as a slide-moulded tub, onto which the running gear and suspension components are fixed. The suspension bogies themselves are moulded complete, with separate roadwheel pairs supplied with separate hubs for greater detail. The drive sprockets are in two parts, as are the idler wheels. The tracks are supplied as lengths of tan-coloured vinyl, which can be cemented with ordinary styrene cement. The idler axle is moulded integrally with the lower hull rear wall, so there's no adjustment possible when determining the tension of the tracks other than stretching a bit to increase their sag, or removing part of them to make them appear more taut.

The rear wall of the lower hull is a separate part, and although some structural detail is moulded onto the part, there are plenty of details supplied as separate parts such as the exhaust system components. The upper hull is moulded as one part with engine deck etc. in place, but separate parts for the rear and front walls. Both the driver and radio operators hatches are moulded closed, although oddly both hatches have detail moulded onto their lower surfaces? The driver's armoured visor and ball mount for the machine gun are both moulded onto the front wall and therefore fixed into place. The MG34 is supplied with a separate barrel though. For the upper hull walls we're supplied with a spare roadwheel rack, barrel cleaning rods in their bracket, and jack block. Each fender comes as a separate part with tread pattern moulded onto upper and lower surfaces, although as you would probably expect, it's a little over-scale. Most of the on-vehicle tools that are usually fixed to clamps on the fenders, are moulded in-situ. They actually do look quite good and are sharply moulded, although I still think there's a case to be made for providing these as separate details. The jack is happily...a separate part, as is the fire extinguisher, Bosch headlight and the front fender supports.

The turret is provided as a slide-moulded shell with crew access hatches moulded closed. The main gun is provided with a one-piece barrel, and slide moulded so that the muzzle brake on the end is pre-drilled. There's a separate commander's cupola, with turret floor and turret stowage bin, with the turret schurzen being supplied in three sections the sides ones having the crew access gates moulded closed. The main hull schurzen are also supplied as one length per side, with separate fixing brackets, although it should be possible to cut the sections up should you wish to display the model with one or more schurzen plates missing.

There are five marking options catered for on the instructions leaflet, three of which are from the Eastern Front, whilst the other two are from Normandy. See below for full details.

Conclusion
If small-scale is your thing, then these kits from Dragon are probably amongst the best examples of injection moulded kits there are. The detail of the running gear, and the way it's engineered is simply outstanding. The moulded-on tools on the fender will not be to everybody's liking though.



-Vinnie Branigan-
ITEM NUMBER:
7497
SCALE:
1:72
BARCODE:
089195874979
RELEASE DATE:
May 2013
LAST UPDATE:
5/16/2013
SERIES:
DISCLAIMER: While all models portrayed in website photographs represent actual models, please note that these are prototypes and that final model products may vary slightly
Copyright 1998-2016 Dragon Models Limited. All Rights Reserved.