1/35 Pz.Kpfw.II Ausf.C w/Mine Roller DAK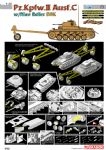 Feature:
Newly tooled mine roller w/photo-etched parts
Mine roller produced from separate parts
Delicately designed rollers
Fully detailed up-armored upper hull for Pz.Kpfw.II Ausf.C w/fenders and engine deck

Up-armored Pz.Kpfw.II Ausf.C turret

Authentic details on turret bottom

ZF-4 scope w/well-defined detail

Fully detailed cupola w/periscopes

2cm Kw.K 30 gun w/correct detail

Slide-molded gun barrel w/hollow muzzle end

Detailed suspension system

Seatbacks accurately recreated

Driver's hatch can be positioned open/closed

Driver's visor can be displayed open/closed

Large storage box can be assembled open/closed

Fenders w/detailed tread pattern

Accurate details on hull bottom

Road wheels and return rollers beautifully rendered

Detailed drive sprockets

Detailed idler wheels

Photo-etched exhaust shield realistically produced

Gen2 MG34 w/gun mount

Photo-etched jack brackets w/accurate jack

Jack has accurate details

Magic Tracks have great detail

Fuel tank reproduced w/firewall assembly

Air filter w/delicate detail

Side engine compartment ventilation grill exquisitely detailed

Detailed injection-molded on-vehicle tools w/brackets

Additional set of on-vehicle tools without brackets

Reviews:

---
Buildup images by Gary Edmundson is NOW available on our Facebook. For more details, please click HERE.
---
Pz.Kpfw.II Ausf.C DAK w/Mine Roller
Manufacturer: Cyber-Hobby
Scale: 1/35
Material: Styrene & Photo-etch
Serial Number: 6752
Price: TBA
Introduction
Cyber-Hobby is a sister company of Dragon Models and Concord Publications, and owned by the same parent company UML. Dragon produces the plastic kits, and Cyber-Hobby has become an on-line retailer that sells their own versions of these kits as releases in any one of a number of different series. This particular kit is being released as a white box kit, i.e. it is a limited edition kit, and once it's sold out...it's gone. No more will be released...there will not be another production run....not unless a part is changed and it can be called something else.
The kit represents a Pz.Kpfw.II Ausf.C of DAK origin, unusual in that it has a mine roller fitted.
Kit Contents
The kit arrives as a fairly full box, as most Cyber-Hobby white box releases are by virtue of their origins and the practice of including sprues from various other kits to obtain the necessary parts for the specific release. In addition to all the various grey styrene sprues there are three small transparent sprues, three brass photo-etched frets, a pre-formed brass shovel bracket, five pre-formed wire parts, two small bags of individual Magic Track links, plus small decal sheet.
Of the sprues contained within the kit, most of course, are from earlier released versions, such as the Pz.Kpfw.II C & F, and Ausf. B/C, although there are brand new sprues to supply the necessary parts to make the mine roller itself. These consist of one small sprue consisting of the support brackets and fittings, and four identical small sprues that supply the rollers themselves plus their specific fittings.
There are some thoughtful detail touches on this one, including the usual familiar ones with Dragon/Cyber-Hobby kits, such as the 'Continental' logo on both the road wheel and return roller tyres. For example there's a very nice photo-etched guard provided for the exhaust, plus two bags of individual 'Magic Track' links in two shades of grey. The driver's compartment is provided fully detailed, including a full transmission, and the fighting compartment is also fully detailed, including floor panels with tread pattern, full radio set up and detailed engine firewall. All the periscopes and armoured vision blocks are provided in transparent plastic, and of course all of the hatches are provided as separate parts with moulded detail on their inner surfaces should you wish to display them opened.
Although the fenders are supplied already moulded onto the upper hull, we are given two complete sets of on-vehicle tools, one set with the 'Smart Series' type of clamps moulded in place, and one set moulded completely without clamps of any sort. For these we're provided with a full set of photo-etched clamps, although it does mean breaking out the stretched sprue to fill some of the locating holes moulded into the fenders.
The main gun is provided in full detail with a full breech assembly, as is the MG34 for the turret. The main barrel is slide moulded so no drilling out the end is necessary, although the small holes in the flash suppressor are moulded closed, so you might want to try and drill them out yourself, or replace the barrel for an aftermarket item.
Once the vehicle body itself is complete, assembly then turns to the mine roller assembly. The main structural elements of this assembly are provided on the largest of the three included photo-etched frets, and do require some long folds which will look pretty awful if not folded absolutely cleanly, so some sort of folding tool is almost a must have. They're too long to fold cleanly with flat-nosed pliers. Once the two A frames are complete, there are two sets of four rollers each to fit to the ends, and although the rollers themselves are provided in styrene, their brackets etc., are again provided in photo-etched brass. Cyber-Hobby omitted instructions on assembling the sets of rollers, but covered themselves with the inclusion of a small erratum on a separate slip of paper.
Markings-wise, we're just offered the one scheme in desert yellow of an unidentified vehicle from sometime during 1942. This vehicle is just displayed with a large 'R' either side of the turret. Although there are Balkencreuz and DAK symbols on the decal sheet, these are not used on the suggested marking scheme.

Conclusion
The Panzer II itself is an incredibly attractive little vehicle, but with the addition of the mine roller, something of a rarity on German WWII models, it almost makes it a must have. Certainly something out of the ordinary! Recommended.
- Vinnie Branigan
ITEM NUMBER:
6752
SCALE:
1:35
BARCODE:
089195867520
RELEASE DATE:
April 2012
RETAIL PRICE:
USD 49.5 (MSRP)
JPY 4500 (Tax Excluded)
LAST UPDATE:
4/2/2012
SERIES:
DISCLAIMER: While all models portrayed in website photographs represent actual models, please note that these are prototypes and that final model products may vary slightly
Copyright 1998-2016 Dragon Models Limited. All Rights Reserved.