1/32 Bf110D/E 'Nachtjager'
New item announced at Shizuoka Hobby Show 2010!
Barcode: 0 89195 83210 8
Packaging: 10 Pieces per carton
Box Size: 20.9" x 13" x 3.9"
Features:
# Bf110E
- Newly tooled antenna on underside of nose
- Newly tooled flash suppressors for Bf110E Night Fighter
- Newly tooled wheels truly represent Bf110E
- Newly tooled tailwheel for Bf110E Night Fighter
- Newly tooled scissor link for Bf110E
- Brand new rudder dedicated to Bf110E accurately presented
- Pilot tube mounted beneath wing
- Great details on nose with camera as options for modeling Bf110E
# Bf110D
- Finely reproduced dingly release cable made from preformed metal wire
- Rudders represent the real ones
- Realistically detailed gun barrels are slide molded with hollow ends
- Detailed FuG 202 aerial bracket mount for Bf110D, both injection plastic and photo-etched options available
- Strengthened landing gear realistically portrayed
- Extended rear fuselage realistically reproduced
- True-to-scale tailwheel
- Slide-molded engine cowling cover has maximum detail
- Propeller blades with accurate curved cross-section and true-to-scale thinkness
- Moveable propeller blades
- Propellers can rotate
- Defined control surface represents the real one
- Fuselage possesses metal-skinned detail
- Transparent cockpit canopy made from separate parts
- Option of displaying canopy side windows open/closed
- Engine cowling cover can be assembled open/closed
- Realistically reproduced DF601 engine has intricate detail
- DB601 engine represented by multiple parts
- Detailed pilot tube on underside of wing
- Detailed inspection covers with rivets
- Cockpit canopy with realistic ribbed detail thanks fot slide molds
- Cockpit canopy antenna finely detailed
- Cockpit canopy can be positioned open/closed
- Instrument panel authentically detailed
- Detailed under-wing air intakes and vents
- Three different depths of panel lines exhibit astonishing level of minute detail
- Rear pilot's MG 15 with windproof cover for antiaircraft and rear defense
- Wings represent laminar-flow airfoil shape
- Two drum-fed MG FF cannons udner the fuselage
- Air filter has fine detail
- Landing-gear compartment with interior detail - struts delicately rendered
- Optional position landing gear
- Intricate MG ammo included - double - drums for MG 15, round drum for MG FF
- Pilot's seatbelt upgraded by photo-etched parts
- Antenna devices located on underside of fuselage - loop anternna, antenna array and antenna mast
- Includes finely detailed boarding ladder
- Four MG 17 weapons for interior of upper nose
The twin-engine Messerschmitt Bf110 heavy fighter served in the Luftwaffe throughout WWII, despite pilots bemoaning its lack of agility in the air. Later in the war, however, it found a niche when it was developed into a successful night fighter. Indeed, it served as the backbone of Germany's Nachtjagdgeschwader, with the first night-fighting units operating as early as 1940. Bf110 aircraft had a sizable hand in claiming 2751 RAF bombers shot down in 1943 alone. In a single dramatic night in August/September 1943, night fighters destroyed no less than 123 RAF bombers. This shows the effectiveness of the Nachtjagdgeschwader, which seriously blunted Allied bomber raids over Germany. However, it came at a cost – for example, 15% of crews were killed within the space of three months in 1944. The top night-fighting ace was Major Heinz-Wolfgang Schnaufer, who claimed 121 victories while flying Bf110s. The Bf110D was a long-range heavy fighter or fighter bomber, while the improved and up-armored Bf110E was designed primarily as a fighter bomber.
Dragon has previously released a Bf110C in its 1/32 scale Wing Tech series. Following on from this popular model is a 2-in-1 kit of the Bf110D/E configured as a night fighter. Modelers thus have the choice of building a 1/32 scale Bf110D or E aircraft equipped for night flying. The appearance of these dedicated night fighters is quite different from the Bf110C, with distinctive radar antennae fitted on Bf110D's nose. In this kit the antenna array is offered as photo-etched parts should modelers so wish to use them, although the standard plastic option is already highly detailed and finely molded. Special parts are further provided for the Bf110E, including new nose and rear wheels, a newly tooled machinegun and nose antenna. Modelers can also elect to depict a camera-equipped Bf110E aircraft. Whichever version of the aircraft that fans select to build, they can be assured of the best quality and highest level of detail, as is the norm in Dragon's Wing Tech series.
ITEM NUMBER:
3210
SCALE:
1:32
BARCODE:
089195832108
RELEASE DATE:
August 2010
LAST UPDATE:
6/9/2010
SERIES: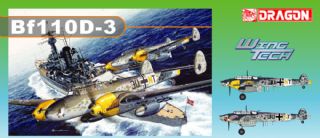 3206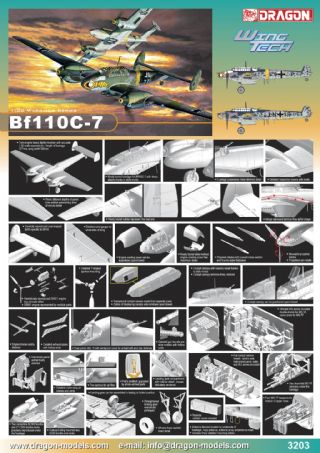 3203
DISCLAIMER: While all models portrayed in website photographs represent actual models, please note that these are prototypes and that final model products may vary slightly
Copyright 1998-2016 Dragon Models Limited. All Rights Reserved.