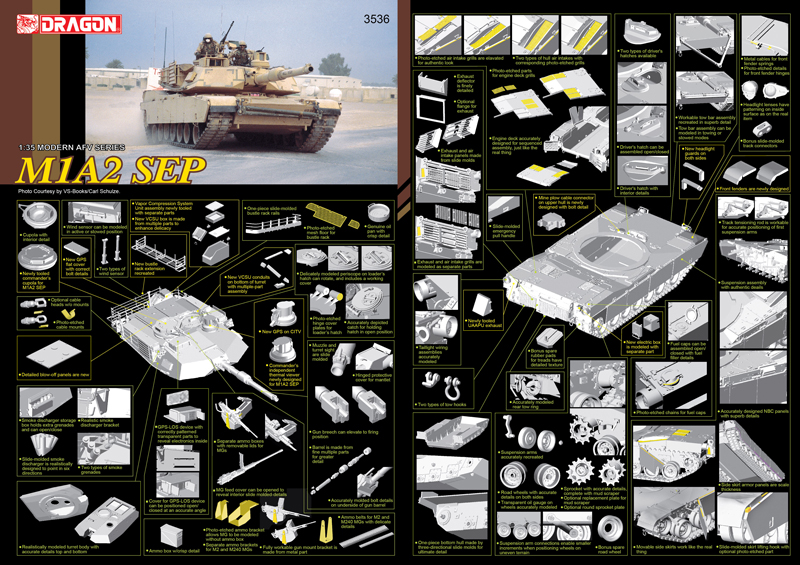 Bar Code: 0 89195 83536 9
Packaging: 20 Pieces per carton
Box Size: 9.6"x15"x3.5"
Features:
Turret & Gun
*Newly tooled commander's cupola for M1A2 SEP
*New VCSU conduits on bottom of turret with multiple-part assembly
*New GPS on CITV
*Commander's independent thermal viewer newly designed for M1A2 SEP
*New GPS flat cover with correct bolt details
*Vapor Compression System Unit assembly newly tooled with separate parts
*New VCSU box is made from multiple parts to enhance delicacy
*New bustle rack extension recreated
*Detailed blow-off panels are new
*Delicately modeled penscope on loader's hatch can rotate and includes a working cover
*Photo-etched hinge cover plates for loader's hatch
*Accurately depicted catch for holding hatch in open position
*Cupola with interior detail
*Muzzle and turret sight are slide molded
*Hinged protective cover for mantlet
*Gun breech can elevate to firing position
*Barrel is made form fine parts for greater detail
*Accurately molded bolt details on underside of gun barrel
*Separate ammo boxes with removable lids for MGs
*MG feed cover can be opened to reveal interior slide molded-details
*Ammo box w/ crisp detail
*Photo-etched ammo bracket allows MG to be modeled without ammo box
*Separate ammo brackets for M2 and M240 MGs
*Fully workable gun mount bracket is made from pre-formed metal part
*Ammo belts for M2 and M240 MGs with delicate details
*Corrrectly modeled turret cable conduits
*Wind sensor can be modeled in active or stowed position
*Two types of wind sensor
*One-piece slide-molded bustle rack rails
*Photo-etched mesh floor for bustle rack
*Genuine oil pan with crisp detail
*GPS-LOS device with correctly patterned transparent parts to reveal electronics inside
*Cover for GPS-LOS device can be positioned open / closed at an accurate angle
*Realistically modeled turret body with accurate details top and bottom
*Smoke discharger storage box holds extra grenades and can open / close
*Realistic smoke discharger bracket
*Slide-molded smoke discharger is realisticalty designed to point six directions
*Two types of smoke grenades
*Optional cable heads w/o mounts
*Photo-etched cable mounts
Upper Hull & Engine Deck
*Mine plow cable connector on upper hull is newly designed with bolt detail
*New headlight guards on both sides
*Front fenders are newly designed
*Fuel caps can be assembled open / closed with fuel filler details
*Photo-etched chains for fuel caps
*Slide-molded emergency pull handle
*Two types of hull air intakes with corresponding photo-etched grills
*Photo-etched air intake grills are elavated for authentic look
*Two types of driver's hatches available
*Driver's hatch can be assembled open / closed
*Driver's hatch with interior
*Workable tow bar assembly recreated in superb detail
*Tow bar assembly can be modeled in towing or stowed modes
*Metal cables for front fender springs
*Photo-etched details for front fender hinges
*Bonus slide-molded track connectors
*Headlight lenses have patterning on inside surface as on the real item
*Engine deck accurately designed for sequenced assembly, just like the real thing
*Photo-etched parts for engine deck grills
Rear
*Newly tooled UAAPU exhaust
*New electric box is modeled with separate part
*Two types of tow hooks
*Bonus spare rubber pads for treads have detailed texture
*Accurately modeled rear tow ring
*Taillight wiring assemblies accurately modeled
*Exhaust and air intake grills are modeled as separate parts
*Exhaust deflector is finely detailed
*Optional flange for exhaust
*Exhaust and air intake panels made from slide molds
Chassis & Suspension
*One-piece bottom hull made by three-directional slide molds for ultimate detail
*Suspension arm connections enable smaller increments when positioning wheels on uneven terrain
*Transparent oil gauge on wheels accurately modeled
*Road wheels with accurate details on both sides
*Suspension arms accurately recreated
*Sprocket with accurate details complete with mud scraper
*Optional replacement plate for mud scraper
*Optional round sprocket plate
*Side skirt armor panels are scale thickness
*Slide-molded skirt lifting hook with optional phtot-etched part
*Movable side skirts work like the real thing
*Track tensioning rod is workable for accurate positioning of first suspension arms
*Suspension assembly with authentic details
*Accurately designed NBC panels with superb details
*Bonus spare road wheel
Others
*New Cartograf decal offers accurate markings
About This kit:
The same is true of this stunning M1A2 SEP kit. Dragon has already fielded its popular and highly acclaimed 1/35 scale kit of the M1A1, but it too has undergone its own enhancement program! The result is a spectacular M1A2 SEP kit that possesses many completely new parts such as a VCSU (Vapor Compression System Unit) box, GPS-LOS device, the commander's cupola and the thermal viewer peculiar to this version. This is not just a kit with a minor facelift, for all new parts have been carefully designed using Dragon's advanced engineering processes. The front fenders are new, while the side skirts can be shown open and the suspension arms can be modeled in a range of positions. The liberal inclusion of photo-etched parts (e.g. air intake grills) and metal items (e.g. gun barrel) contribute to a world-beating model. This updated M1A2, with all its enhanced technological updates from Dragon, is ready to spearhead the war against any terrorist, insurgent or armored foe!
ITEM NUMBER:
3536
SCALE:
1:35
BARCODE:
089195835369
RELEASE DATE:
July 2007
LAST UPDATE:
5/29/2007
SERIES:
DISCLAIMER: While all models portrayed in website photographs represent actual models, please note that these are prototypes and that final model products may vary slightly
Copyright 1998-2016 Dragon Models Limited. All Rights Reserved.