1/72 Long Range Desert Group Patrol Car w/2cm Cannon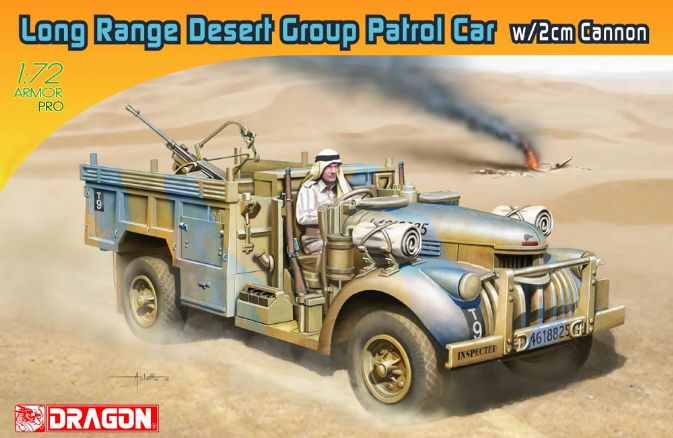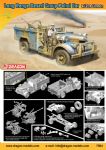 Barcode: 0 89195 87504 4
Case pack: 48 Pieces per carton
Box Size: 6.4" x 10.2" x 1.9"
Features:
Newly tooled LRDG patrol car w/2cm cannon
Sand channel molded on side of vehicle
2cm cannon mounted in rear compartment
Intricate engine grille
Gunner's seat accurately reproduced
Hand wheels and gun cradle offer great detail definition
Accurately shaped front fenders w/details
Well-defined wheels w/authentic tire tread pattern
Wheels are produced in separate parts
Slide-molded chassis
Delicate spade reproduced
Lee-Enfield mounted besides driver's cab
Rolled tarpaulins w/detachable brackets fitted on front fenders
Detailed dashboard & driver's compartment
POW cans included

The Long Range Desert Group (LRDG) was a highly effective unit that roved far behind enemy lines in North Africa during WWII. It gathered intelligence, performed reconnaissance and conducted attacks from mid-1940 through to April 1943. Yet the elite unit never exceeded 350 men at any one time. To successfully negotiate the desert, the LRDG used vehicles such as the two-wheel-drive truck. The truck entered service in March 1942 and these sturdy vehicles carried sand channels, jerry cans, a sun compass, sometimes a wireless, improved radiator cooling system and low-pressure desert tires. They were fitted with weapons such as Lewis guns, Vickers medium machine guns and the Vickers K. Some were even fitted with 2cm guns that had been captured from Italian forces. It was a 20mm antiaircraft gun widely used by Italy in WWII. Of course, the 330kg weapon could also be used against ground targets.
Dragon earlier produced an all-new 1/72 scale plastic model of a standard LRDG patrol truck (Item No.7439). This proved a very popular subject, particularly for those interested in the North African theater of combat. That model utilized brand new toolings, with a single-piece chassis and a slide-molded front body with integral fenders and front grill. Now the kit has been joined by a truck that boasts even more firepower. All new for this kit is an intricate replica of the 2cm gun. The detailed weapon fits onto the rear body, which is a one-piece component for easy assembly and accurate alignment. The extra-large 10.50 x 20 sand tires are crisply detailed too. This is an exciting 1/72 model kit from Dragon, and it will make the perfect companion for the standard LRDG patrol truck as they roam the sands of North Africa!
---
Review:
---
Kit Review: Dragon Models Limited 1/35 scale Armor-Pro Series
Kit No. 7504; Long Range Desert Group Patrol Car w/2cm Cannon
72 parts in grey styrene
Pre-order price US$19.95 via Dragon USA Online

Advantages: nicely done Breda gun and mount; nicely done body and cab

Disadvantages: wheels only half molded with no backs

Rating: Recommended

Recommendation: for all 1/72 Desert War fans


Following on its first release of a LRDG Chevrolet truck based on a cut-down 1941 Chevrolet light truck with military body and sand tires, DML has now released a second version fitted with a captured 2 cm Breda gun.

The Cannone-Mitragliera da 20/65 modello 35 was an automatic 20mm antiaircraft gun that like its German 2 cm Flak 38 counterpart could be used for anti-material and antipersonnel tasks as well. It could fire 200-220 rounds per minute and was in wide use. It was quite popular with all sides and the British fitted them to captured vehicles when possible to increase firepower.

This is a virtual repeat of the earlier LRDG kit (No. 7439) but with a new sprue for the Breda parts. It captures the personality of the '41 Chevy (which once again due to trademark demands is now called a "Patrol Car" rather than a Chevrolet truck) and the British military pattern body. It still comes with two Enfield rifles, a Lewis gun with cooling jacket on a pedestal mount with separate drum, a "flimsy" of gas (only one!) and the rolled tarps on the front fenders. No radio is provided but it also comes with the lockers as separate parts, a sand channel and tent poles for the canvas.


The cab is neatly done with the modified grille shell and a false radiator front that mounts behind them to be visible. There are no pedals in the control area,nor any engine or transmission upper bits.

The chassis is simple with a one-piece driveline, separate springs and front axle, and separate exhaust. But the wheels are still only half-molded with no back sides, which is surprising in this day and age with the molding skills DML possesses. Oddly enough a back side and wheel rim are clearly evident on the directions.

The gun comes with a solid muzzle flash hider as DML used the other end of the mold in a slide in order to provide twin separate hand grips; this is actually a smarter idea as it is easier to drill out a muzzle than separate grips. It comes with the intricate leverage frame for aiming the gun that balanced it and the oversized traverse wheel for rapid tracking.


Finishing directions are included for two vehicles: "Te Aroha", T Patrol, Libya 1943 in the "Caunter" scheme , and an unidentified vehicle in sand, green and pinkish brown with no markings. A set of Cartograf decals is included along with a number jungle for census numbers for other vehicles.

Overall the gun is a nice improvement but it still seems more oriented on wargamers model than scale modelers.

Thanks to Freddie Leung for the review sample.
-Cookie Sewell-
Sprue Layout:

A 18 Body, storage bins, fuel can, Lewis Gun and mount
B 31 Cab, details, kit, weapons
C 14 Chassis, wheels, tires, exhaust
D 9 2 cm Breda cannon and mount
ITEM NUMBER:
7504
SCALE:
1:72
BARCODE:
089195875044
RELEASE DATE:
January 2013
LAST UPDATE:
1/15/2013
SERIES:
DISCLAIMER: While all models portrayed in website photographs represent actual models, please note that these are prototypes and that final model products may vary slightly
Copyright 1998-2016 Dragon Models Limited. All Rights Reserved.